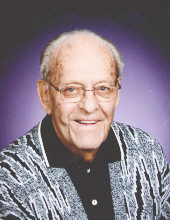 87
Sheldon, Iowa
July 9, 2020
Verdean Blumeyer, 87, of Sheldon, Iowa, passed away at his home Thursday, July 9, 2020.
Funeral services were Monday, July 13, at St. Patrick Catholic Church, Sheldon, with interment in Lyon County First Presbyterian Cemetery, George, Iowa.
Verdean Dale Blumeyer was born Aug. 18, 1932, near Boyden, Iowa, son of Chris Harold and Pauline Ida (Walp) Blumeyer. He attended a country school and graduated from Boyden High School. He served with the U.S. Navy from 1952-1956 and the Sheldon Army from 1956-1960.
On Nov. 29, 1957, he married Darlene Beermann. They lived in Sheldon. His wife passed away in 1998. He was employed at Big 4 and AGP 32 years prior to his retirement.
In 2000, he Lorna (Lechtenberg) Hatting.
Survivors include his wife; three children, Cindy (Matthew) Brown of Ft. Dodge, Iowa, Doug Blumeyer of Rock Valley, Iowa, and Lisa (Ronnie) Daggett of Ft. Dodge, Iowa; five stepchildren, Tim (Sheila) Hatting of Hospers, Iowa, Kathy (Steve) Wells of Houston, Texas, Judy Wallace of Sheldon, Dan (Tammy) Hatting of Sioux Falls, South Dakota, and Lori (Jeff) Hoven of Matlock, Iowa; 25 grandchildren, 18 great-grandchildren, one great-great-grandchild; a sister-in-law, Carolyn Blumeyer of Hastings, Minnesota, other relatives and friends.
He was preceded in death by his wife; parents; a daughter and son-in-law, Pamela and Ade Vander Linden; a grandson; a great-granddaughter; two brothers, Father Robert Donald Blumeyer and John Blumeyer; a sister and her husband, Shirley and Clifford Moss, and other in-laws.