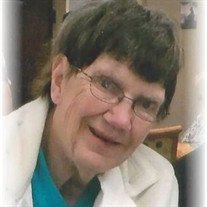 Shirley Lens
79
Sheldon, Iowa
May 3, 2020
Shirley Lens, 79, of Sheldon, Iowa, passed away Sunday, May 3, 2020, at Sanford Senior Care in Sheldon.
Graveside services were Tuesday, May 5, at St. Paul Lutheran Church Cemetery, rural Hull, Iowa. Shirley Ann Faber was born Aug. 18, 1940, in Lake View, Iowa, daughter of Henry and Alma (Jantzen) Faber. She lived her youth in Boyden, Iowa, and later Sheldon where she attended school.
On April 8, 1972, she married Roger Lens They later divorced. She continued to live in Sheldon, moving to Cobble Creek Assisted Living and later to Sanford Senior Care.
Shirley enjoyed board games, bingo and other games. She especially liked family get-togethers.
Survivors include a sister, Doreen McCabe, and sister-in-law, Elaine Faber.
She was preceded in death by her parents; three brothers, Lyle Faber, Daryle Faber and Leland Faber, and one sister, Karleen Breyfogle.