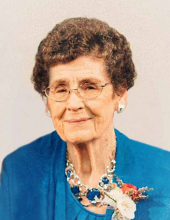 94
Hull, Iowa
June 28, 2020
Sally De Groot, 94, of Hull, Iowa, passed away Sunday, June 28, 2020, at Whispering Heights in Rock Valley, Iowa.
Memorial service was Wednesday, July 1, at First Christian Reformed Church, Hull, with interment in Hope Cemetery, Hull.
Renzella "Sally" Mae Woudstra was born July 21, 1925, in Orange City, Iowa, to James and Hattie (Kreykes) Woudstra. She grew up in Orange City and worked with her father at Woudstra Meat Market. She earned her high school diploma via mail through Western Christian High School in Hull.
On June 18, 1946, she married John De Groot in Orange City. The couple lived in Michigan, Edgerton, Minnesota, and Sioux Center, Iowa, before moving to Hull in 1970. Her husband passed away June 1, 2002.
Survivors include her daughter, Helen (Gervin) Bonnema of Orange City; her son, Larry De Groot of Sioux Falls, South Dakota; seven grandchildren; 23 great-grandchildren; a brother, Al Woudstra of Orange City; three sisters, Marilyn Kroeze of Orange City, Sylvia Veltkamp of Inwood, Iowa, and Joyce Vande Griend of Hull; three sisters-in-law, Vernell Kuiper of Orange City, Helen De Groot of Arkansas and Marjean De Groot of Washington State; a brother-in-law, Dick Van Gelder of Creston, Iowa, and numerous nieces and nephews.
In addition to her parents and husband, she was preceded in death by John's parents, Leonard and Jeanette De Groot; a daughter-in-law, Helen (Slegers) De Groot; two grandchildren; a brother, LeRoy Woudstra; a sister-in-law, June Woudstra; five brothers-in-law, Gary Kroeze, Dick Veltkamp, Pete Vander Tuig, Harold Kuiper and Bernie Vande Griend; and her husband's siblings, Bill De Groot, Harold De Groot, Clarence (Jeanette) De Groot, Theresa (Tony) Kuiper and Clarena Van Gelder.