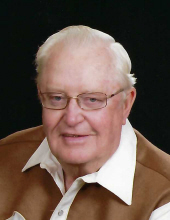 82
Hull, Iowa
February 22, 2021
Robert Van't Hul, 82, of Hull, Iowa, passed away Monday, Feb. 22, 2021, at his residence.
Funeral service was Friday, Feb, 26, at First Reformed Church, Hull, with interment in Hope Cemetery, Hull.
Robert Lee was born May 31, 1938, in Hull, the son of Ed and Francis (Vande Vegte) Van't Hul. He was raised in Hull and Rock Valley, Iowa, and graduated from Western Christian High School in Hull.
On May 26, 1959, he married Corrine Marlene Vollink. They made their home in Hull where "Whitey" worked as an electrician and operated Van't Hul and Sohl Electric. In earlier years, he served as part of the National Guard and volunteered with the Hull Fire Department and ambulance team more than 40 years. He volunteered at Hope Haven's wheelchair ministry.
Survivors include his wife; a daughter, Carla (Leon) Kleinwolterink of Sheldon; six grandchildren; five great-grandchildren; a sister, Muriel (Peter) Den Hartog of Orange City; a brother, Marvin (Myrna) Van't Hul of Hull; Corrine's five brothers, Tunis (Fran) Vollink of Hull, Fred (Glenda) Vollink of Le Mars, Iowa, Gary (Deb) Vollink of Hull, Harold (Gail) Vollink of Doon, Iowa, and Veryl (Lena) Vollink, of Hull; a sister-in-law, Carol Reekers of Hull, and many nieces and nephews.
In addition to his parents and parents-in-law, Fred and Henrietta Vollink, he was preceded in death by a daughter, Connie Nissen; a brother, Norman Van't Hul, and a brother-in-law, Harlon Vollink.