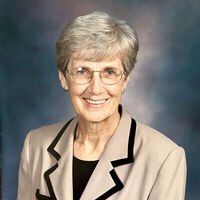 80
Sioux Center, Iowa
November 8, 2021
Patricia Pollema, 80, of Sioux Center, Iowa, died, Monday, Nov. 8, 2021, at Sioux Center Health.
Memorial service was Thursday, Nov. 11, at United Reformed Church, Sioux Center.
Patricia Elenore VerSteeg was born Sept. 9, 1941, in Hancock, Minnesota, to Bert and Cornelia (Schrier) VerSteeg. She was raised on the family farm. After high school, she attended Dordt University in Sioux Center.
On Dec. 29, 1964, she married Robert Lee Pollema Sr. They lived in Hull, Iowa, where she worked at Hull Christian Grade School. She later worked for the Hull Index-Reporter newspaper and Dordt University. In her retirement years, she volunteered with Justice For All and Kinsey Elementary.
Survivors include two sons, Bob (Mary Beth) Pollema of Sioux Center and Brent (Karmen) Pollema of Holland, Michigan, and five grandchildren.
She was preceded by her parents, her husband and a sister, JoAnn Van Eps.