Norma Vander Meulen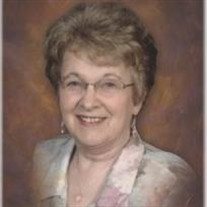 81
Ocheyedan, Iowa
June 14, 2018
Norma Vander Meulen, 81, of Ocheyedan, Iowa, passed away Thursday, June 14, 2018, at Sunset Hospice Cottage in Worthington, Minnesota.
Funeral services were Tuesday, June 19, at Christian Reformed Church, Ocheyedan, with interment in Ocheyedan Township Cemetery.
Norma Humme was born Feb. 2, 1937, near Hull, Iowa, daughter of Arnold and Cornelia "Kate" (Vos) Humme. She graduated from Hull High School in 1955 and attended Northwestern Junior College in Orange City one year. She was employed by the ASC office in Orange City three years.
On June 29, 1960, she married Alan Vander Meulen. She worked at Ocheyedan Savings Bank, secretary at Faith Christian High School and janitor at Ocheyedan Christian Reformed Church 10 years.
Survivors include her husband; her children, Rhonda (Kenneth) Weg of Sibley, Iowa, Bradley (Michele) Vander Meulen of Ocheyedan, Natalie (Michael) Mulder of Worthington, Minnesota, and Dawn (Brent) Witte of Sioux Falls, South Dakota; 12 grandchildren; four stepgrandchildren; one great-grandchild; 12 stepgreat-grandchildren; one brother, Peter (Sylvia) Humme of Orange City, Iowa; two sisters, Mary (Harlan) Van't Hul of Rock Valley, Iowa, and Donna Humme of Sioux Falls, and sister-in-law, Wilma Humme.
She was preceded in death by her parents; brothers, John and his wife, MaryAnn, James and David Humme; sister, Nelverne Marra and her husband, Ted.