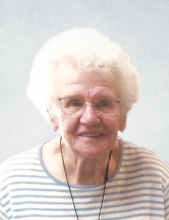 91
Sioux Center, Iowa
October 10, 2020
Nellie Keizer, 91, of Sioux Center, Iowa, passed away Saturday, Oct. 10, 2020, at Rock Rapids Health Care Centre.
Funeral service was Tuesday, Oct. 13, at Carmel Reformed Church, Carmel, Iowa, with interment in Hope Cemetery, Hull, Iowa.
Nellie Bakker was born Oct. 1, 1929, in Hudson, South Dakota, daughter of Gysbert and Johanna (De Kam) Bakker. She grew up and attended country school near Rock Valley, Iowa.
On feb. 24, 1954, she married Albert Keizer. Except for eight years in Archer, Iowa, and elsewhere, they made their home in Perkins, Iowa, where she sold Fuller Brush products. Her husband passed away June 5, 2010. She moved to Kosgrove Estate Assisted Living in Sioux Center in 2019.
Survivors include her six children, Larry (Lois) Keizer of Watertown, South Dakota, Arlyn Keizer of Rock Valley, Marla (Ron) Schmith of Hawarden, Iowa, Keith (Denise) Keizer of Hull, Kevin (Lynda) Keizer of Hull, and Erv (Cindy) Keizer of Sioux Center; 18 ; 23 great-grandchildren; four sisters, Bertha (Frances) LeLoux of Rock Valley, Johanna (Robert) Catchot of Norfolk, Virginia, Goldie Veldman of Hull and Gertrude Busby of Rock Valley; two brothers, John (Joyce) Bakker and Albert (Carolyn) Bakker of Rock Valley, and a sister-in-law, Donna Bakker of Hull.
She was preceded in death by her parents; husband; two brothers, Gysbert Bakker and Clarence Bakker, and a brother-in-law, Gerrit Veldman.