Mary J. Van Surksum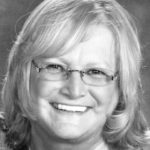 67
January 28, 2019
12/27/1951 ~ 01/28/2019
Preceded in death by parents Roy and Geraldine Bouma; brother-in-law David; nephew Timothy; in-laws John and LaVonne Van Surksum.
Survived by husband Terry; sons Scott A. and Jason L. (Kara); sister Audrey Huisman; brother-in-law Gary (Lynn) and Roger (Mary); sister-in-law Shari Slater (Steve); grandchildren Kaitlyn, Zachary, Trenton.
Funeral Service: Saturday, February 2, 2019 at 10:30AM at Beautiful Savior Lutheran Church (7706 S 96th St. LaVista, NE)
Visitation: Friday, February 1, 2019 from 6-8:00PM at the Church.
Interment: Voss Mohr Cemetery
Memorials may be made to the Church
To leave a condolence, please visit www.bramanmortuary.com