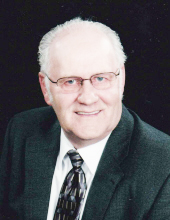 82
Orange City, Iowa
May 21, 2020
Martin De Wit, 82, of Orange City, Iowa, passed away Thursday, May 21, 2020, at his residence.
Funeral service was Tuesday, May 26, at First Christian Reformed Church, Orange City, with interment in West Lawn Cemetery, Orange City.
Martin Roy "Bud" was born Aug. 16, 1937, in Rock Valley, Iowa, son of Henry and Frances (Vanden Bosch) De Wit. He was raised in Rock Valley and Inwood, Iowa.
On Nov. 25, 1957, he married Joy Van Oort. They made their home in Middleburg and Orange City. He worked at Diamond Vogel Paint in Orange City but spent most of his adult life working as a carpenter. His wife passed away July 21, 2016.
Survivors include his six children, Arlan (June) De Wit of Boyden, Iowa, Rhonda Gerald) Postma of Ireton, Iowa, Robert (Laurie) De Wit of Jewell, Iowa, Lyle (Pam) De Wit of Ireton, Loren (Julie) De Wit of Orange City and Amy (Bill) Davis of Maurice, Iowa; 22 grandchildren; 38 great-grandchildren; his siblings, John (Greta) De Wit of Sioux Falls, South Dakota, Lee (Don) Jongerius of Orange City, Gert (Cornie) Hibma of Washington, Ed De Wit of Inwood and Linda (Simon) Kooiman of Ontario, Canada; two sisters-in-law, Henny Van Oort of Rock Valley and Shirley Rens of Hull; a brother-in-law, Vern Van Oort of Doon; and numerous nephews and nieces.
In addition to his parents, he was preceded in death by a sister, Ruth (Mart) Halma; three brothers-in-law, Ed Driesen, Joe Van Oort and Gerald Rens, and two sisters-in-law, Mona De Wit and Sharon Van Oort.