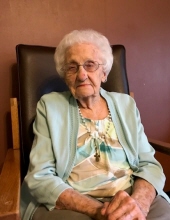 103
Sheldon, Iowa
November 5, 2020
Kathryn H. Groendyke, 103, of Sheldon, Iowa, passed away Thursday, Nov. 5, 2020, at Sanford Senior Care in Sheldon.
Funeral service was Monday, Nov. 9, at First Reformed Church, Sanborn, Iowa, with interment in Roseland Cemetery, Sanborn.
Kathryn H. Van Tol was born Aug. 22, 191,7 in Doon, Iowa, daughter of Leendert and Gertrude (Van Roekel) Van Tol. She attended Doon Christian School through eighth grade. On Feb. 23, 1941, she married Cornelius "Neal" Groendyke. They lived in Boyden, Iowa, and Lincoln, Nebraska, before moving to Sanborn where they farmed for many years. From 1966 until her retirement in 2001, she worked as a certified nurse's aide at Prairie View Home in Sanborn. Her husband passed away Feb. 12, 1993. She remained in Sanborn until moving to Sanford Senior Care in April 2017.
Survivors include two sons, Keith (Judy) of Sanborn and Kevin (Ever) of Selma, Texas, seven grandchildren, 16 great-grandchildren, nieces, nephews, other relatives and friends.
She was preceded in death by her parents; husband; three great-grandchildren; five brothers, Mynard, William, Cornelius I, Cornelius II and Henry Van Tol, and four sisters, Della Lems, Gertrude Van Bemmel, Helen Faber and Grace Steensma.