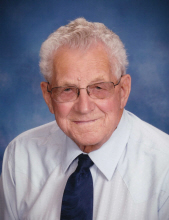 87
Sioux Center, Iowa
April 29, 2020
Joe Bomgaars Jr., 87, of Sioux Center, Iowa, passed away Wednesday, April 29, 2020, at Sioux Center Health.
Funeral service was Monday, May 4, at First Reformed Church, Hull, Iowa, with interment in Hope Cemetery, Hull.
Joe Jr. was born Oct. 1, 1932, near Hull, son of Joe N. and Nellie (Schalekamp) Bomgaars. He was raised in northwest Iowa and attended country school.
On Oct. 1, 1953, he married Nelvina De Vos. They farmed in the Hull area until moving into town in the late 1980s. He also worked in the sale barn at Tri-State Livestock in Sioux Center and at Cenex gas station in Hull. His wife passed away Aug. 15, 2007.
He was a member of the Hull Saddle Club and was a 4-H leader.
Survivors include three children, Joel (Lori) Bomgaars of Maricopa, Arizona, Wanda (Mike) Harmsen of Rock Valley and Calvin (Connie) Bomgaars of Hull; nine grandchildren; 13 great-grandchildren and a sister-in-law, Dorothy Bomgaars of Sioux Center.
In addition to his parents and wife, he was preceded in death by his siblings, Nick Bomgaars; Jake Angeline) Bomgaars, Geneva (Bill) Van Sloten and Muriel Bomgaars.