Jeanette Aardema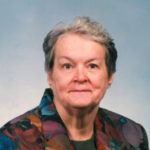 94
Hull, Iowa
January 17, 2019
Jeanette "Irene" Aardema, 94 of Hull, Iowa, died Thursday, Jan. 17, 2019, at Pleasant Acres Care Center, Hull.
Funeral service was Thursday, Jan. 24, at Memorial Funeral Home, Sioux Center, Iowa, with interment in Memory Gardens Cemetery, Sioux Center.
Jeanette "Irene" Aardema was born Sept. 30, 1924, in Sioux Center to Nicholas and Jeanette (Schortinghuis) Aardema. She graduated from Sioux Center Community School. She lived in Sioux Center and Orange City, Iowa, and worked at Hope Haven. The last few years of her life, she has lived at Pleasant Acres Nursing Home in Hull.
Survivors include nephews, nieces and cousins.
She was preceded in death by her parents; sister, Grace Kelderman; brother, Charles Aardema, and a brother-in-law, Albert Kelderman.