Iola Moss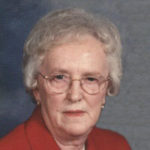 88
Valley Springs, South Dakota
July 7, 2019
Iola M. Moss, 88, of Valley Springs, South Dakota, died Sunday, July 7, 2019, at Sanford USD Medical Center in Sioux Falls, South Dakota. 
Funeral service was Thursday, July 11, at Valley Springs Reformed Church with interment in Pleasant View Cemetery, Valley Springs. 
Iola Mae Zoerink was born July 21, 1930, in Hull, Iowa, daughter of John and Minnie (Groen) Zoerink. She attended Hull Christian School and graduated from Western Christian High School. She then taught two years at a country school north of Hull and five years at Hull Christian School.
On June 1, 1955, she married Henry Moss. The couple lived in the Sioux Center, Iowa, area before moving to a farm near Beaver Creek, Minnesota in 1960. In 1975, they moved to Valley Springs where the operated Valley Cafe. They moved to Manley, Minnesota, in 1982. She began work as a home health aide in 1984. Her husband passed away Oct. 12, 2000. She moved to Brandon, South Dakota, in 2016.
Survivors include six children, Carl (Cindy) Moss of Valley Springs, Denise (Al) Rozeboom of Pipestone, Minnesota, Nora (Don) Halverson of Kenneth, Minnesota, Tylene (B.J.) Jansma of Beaver Creek, Minnesota, Jolene (Marlyn) De Beer of Adrian, Minnesota, and John (Tonya) Moss of Sioux Falls; 13 grandchildren; 23 great-grandchildren; four siblings, Leone Metros of Seal Beach, California, Mary Ann Van Meeteren of Sheldon, Iowa, Gail (Tom) Craven of Costa Mesa, California, and Wayne (Alex) Zoerink of Palm Harbor, Florida, and many other relatives and friends.
She was preceded in death by her husband; a daughter, Marcia; her parents and four siblings, Mitchell Zoerink, Ivan Zoerink, Betty Pierce and Merna Zoerink.