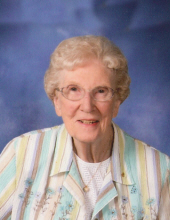 91
Sheldon, Iowa
June 17, 2020
Helen Dammann, 91, of Sheldon, Iowa, passed away Wednesday, June 17, 2020, at Sanford Senior Care Center in Sheldon
Services were Saturday, June 20, at St. Paul Lutheran Church, Sheldon, with interment in Evergreen Lawn Cemetery, George, Iowa.
Helen F. Rosenboom was born June 27, 1928, near Boyden, Iowa, to Andrewand Katherine (Habben) Rosenboom. She attended Boyden Public School and graduated from high school in 1945. She worked at Boyden Produce several years, Smit & Son Meat Market as bookkeeper and then began working as a bookkeeper-teller for the Farmers Savings Bank which became Citizens State Bank in Boyden until her retirement in December 2013.
On Oct. 14, 1960, she married Floyd Dammann. They farmed near George and Archer, Iowa. In 1965, they purchased the Rosenboom family farm near Boyden and farmed there several years. Her husband passed away Jan. 17, 199,7 and she moved to Sheldon. She became a resident of Christian Retirement Home in February 2009. She became a resident at Sanford Senior Care Center Sept. 7, 2018.
Survivors include one brother, Bill (Leona) Rosenboom of Sheldon; sisters-in-law, Fern Rosenboom of Sanborn, Iowa, Lavonne Meyer of George, Mary Dammann of Sheldon, Gladys (Norman) Moret of Boyden and Marilyn Dammann of Toledo, Iowa, many nieces and nephews, cousins and friends.
She was preceded in death by her parents; her husband; one sister, Ella Rosenboom; a brother, John Rosenboom; parents-in-law, Harry and Marie Dammann, and three brothers-in-law, Orval and Arnold Dammann and Irvin Meyer.