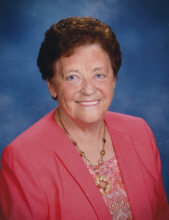 85
Hull, Iowa
September 11, 2020
Gertrude "Trudy" Te Slaa, 85, of Hull, Iowa, passed away Friday, Sept. 11, 2020, at Sioux Center Health.
Funeral services were Monday, Sept. 14, at First Reformed Church, Hull, with interment in Hope Cemetery, Hull.
Gertrude Joan Kuipers was born June 11, 1935, in Hull, daughter of Isaac and Matilda (Vander Vliet) Kuipers. She was raised on a farm near Hull. Following her graduation from Hull High School, she was a live-in maid for new mothers.
On Feb. 16, 1954, she married Howard Te Slaa. They farmed in the Hull area, wintering in Arizona 16 years. In November 2015, the couple moved to Aspen Heights, and in February 2017, they transferred to Pleasant Acres Care Center in Hull. Her husband passed away Nov. 8, 2017. Shortly thereafter, she returned to Aspen Heights.
Survivors include six children, Renita (Dan) Kahlstorf of Britt, Iowa, Glenda (Kent) Meyn of Ames, Iowa, Harwin (Diane) Te Slaa of Hull; Beth and Darrell Schmith, of Sioux Falls, South Dakota; Darwin and Lisa Te Slaa, of Hull and Lisa (Mike) De Boer of Fairmont, Minnesota; 18 grandchildren; 11 great-grandchildren; two brothers, Gradus (Caroline) Kuipers and Gerrit (Carol) Kuipers; a sister, Karen Dykstra; three brothers-in-law and two sisters-in-law, Cleo (Joyce) Te Slaa, Dee (Claus) Gorter, Norm (Cathy) Te Slaa, Arlen (Carol) Te Slaa and Sharon (Marv) Winkel.
In addition to her parents and husband, she was preceded in death by three infant children, Ronald, Rhonda, and Rachel; a sister and her husband, Hermina and Vernon Hamann, and a brother-in-law, Richard Dykstra.