Gerald Bonestroo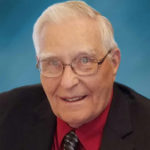 92
Hull, Iowa
Sept. 14, 2019
Gerald Bonestroo, 92, of Hull, Iowa, passed away Saturday, Sept. 14, 2019, at Hegg Health Center in Rock Valley, Iowa.
Funeral service was Wednesday, Sept. 18, at First Reformed Church, Hull, with interment in Hope Cemetery, Hull. 
Marion Gerald was born May 18, 1927, in Perkins, Iowa, son of Egbert and Wilhelmina (Korthals) Bonestroo. He was raised in Perkins and attended school there through eighth grade. In 1945, he joined the U.S. Army and served during World War II.
On May 2, 1947, he married Gertrude Swier. They were tenant farmers in northwest Iowa until 1961 when they moved to a home in Hull and he started working for Hull Creamery. In 1970, he transitioned to Wells Blue Bunny Dairy in Le Mars, where he worked 20 years. His wife passed away Aug. 31, 2014. In July 2015, he became a resident of Aspen Heights Assisted Living in Hull.
Survivors include four children, Erwin (Janet) Bonestroo, Ronald Bonestroo, Janice (Lyle) Van Voorst; and Douglas (Judith) Bonestroo; 15 grandchildren; 31 great-grandchildren; three great-great-grandchildren and a sister, Albertha Rozeboom.
In addition to his parents and wife, he was preceded in death by a daughter, Sharon Buys; a son, Kenneth Bonestroo, and eight brothers, Egbert Bonestroo, Henry Bonestroo, Benjamin Bonestroo, Fred Bonestroo, Edward Bonestroo, Alvin Bonestroo, Leonard Bonestroo and Thomas Bonestroo.