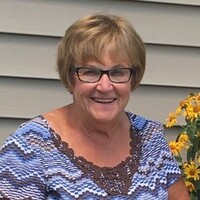 74
Sioux Center, Iowa
April 20, 2020
Frances Moss, 74, of Sioux Center, Iowa, died Monday, April 20, 2020, at her home.
Private family service was Friday, April 24, at Bethel Christian Reformed Church, Sioux Center, with interment in Valley View Cemetery, Rock Valley. Condolences may be sent to the family at www.mfhonline.com.
Frances Elaine Moss was born July 19, 1945, In Boyden, Iowa, to Clarence and Jennie (Bakker) De Kam. She grew up near Rock Valley and graduated from Western Christian School in 1963.
On June 8, 1965, she married Myron Moss. They made their home on a dairy farm west of Sioux Center. She also worked at Nobl Labs part-time and after moving off the farm in 2000, she delivered motorhomes with her husband 12 years.
Survivors include her husband; her children, David (Kristy) Moss of Sioux Falls, South Dakota, Julie (Marlin) Ten Napel of Sioux Center, Melynda (Jon) Meyerink of Sioux Center and Carrie (Andrae) Harrison of Sioux Falls; 12 grandchildren; siblings, Nelva (Pete) Pollema, Judy (Marlin) De Noble and Helen (Brad) De Vries; sister-in-law, Marj Dekam,; sisters-in-law, Mary Van Middendorp, Eileen (Ken) Kooima and Casey Moss; brothers-in-law, Neal (Trina) Moss and Harlan (Pat) Moss.
She was preceded in death by her parents; son, Michael; brother, Jim De Kam; parents-in-law, John and Gertrude Moss, and brothers-in-law, John Van Middendorp, Alvin Moss and Leslie Moss.