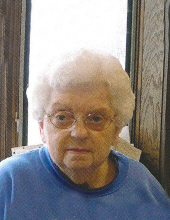 93
Boyden, Iowa
September 17, 2020
Fenna "Toots" Winter, 93, of Boyden, Iowa, passed away Thursday, Sept. 17, 2020, at Whispering Heights Nursing Home in Rock Valley, Iowa.
Funeral service was Monday, Sept. 21, at St. John Lutheran Church, rural Boyden, Iowa, with interment in the church cemetery
Fenna "Toots" Keizer was born Nov. 26, 1926, near Hull, Iowa, to Joe and Jennie (Hommes) Keizer. She attended a county school.
On Feb. 24, 1965, she married Fritz Winter. They farmed near Boyden. Her husband passed away April 18, 1991. In 1998, she moved into Boyden. She became a resident at Franken Manor in Sioux Center, Iowa, in 2007, later moving to a nursing home in Sioux Center. In June of 2012, she moved to Whispering Heights in Rock Valley.
Survivors include her brother, Jim Keizer of Doon, Iowa; her sisters-in-law, Jen Keizer of Sheldon, Iowa, and Carol Winter of Boyden, and a host of nieces and nephews.
She was preceded in death by her husband; her parents; three brothers, Dick "Theo" Keizer, John J. Keizer and William (Grace) Keizer; a sister-in-law, Pat Keizer; Fritz's parents, Wilhelm and Dorathea (Bahlke) Winter; his four brothers, Albert H. Winter, Louis (Theora) Winter, Arnold Winter and Ernest Winter, and two sisters, Martha Winter and Betty McKnight.