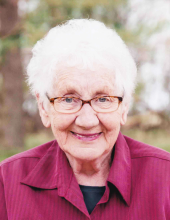 92
Hull, Iowa
November 14, 2020
Esther Rozeboom, 92, of Hull, Iowa, passed away Saturday, Nov. 14, 2020, at Friendly Horizons Retirement Community in Sioux Center, Iowa.
Funeral service was Thursday, Nov. 19, at First Christian Reformed Church, Hull, with interment in Hope Cemetery, Hull.
Esther Vander Werff was born Feb. 27, 1928, near Hull, daughter of Robert and Theodora (Rodenburg) Vander Werff. She attended rural schools in Sioux County and graduated from Western Christian High School in Hull. She then attended Westmar College in Le Mars and became a rural schoolteacher.
On May 5, 1949, she married Dick Rozeboom. She was a nurse's aide at Pleasant Acres Care Center in Hull more than 30 years and a cook at Hull Christian School eight years. Her husband passed away April 15, 2013.
Survivors include three daughters and one son, Darlene Rozeboom Sohl Esquivel of Santa Anna, El Salvador and Hull, Linda (Richard) Marcus of Fallbrooke, California, Waneta (Marvin) Van Tilburg of Milford and Richard (Shelly) Rozeboom of Hull; 12 grandchildren; 29 great-grandchildren; three great-great-grandchildren; a sister, Duck Lockhorst of Hull; a brother-in-law, James Boogerd of Hull, and Dick's siblings, Nellie Rozeboom of Inwood, Gert Rozeboom of Rock Valley, Clazena Rus of Sioux Center, Leonard (Cathy) Rozeboom of Inwood, Gerrit (Marie) Rozeboom of Michigan, Henry Rozeboom of Doon, Iowa,and Elizabeth (Neil) Boluyt and Anthony (Susan) Rozeboom, all of Michigan.
In addition to her parents and husband, she was preceded in death by three brothers, five sisters and many brothers- and sisters-in-law in both the Vander Werff and Rozeboom families.