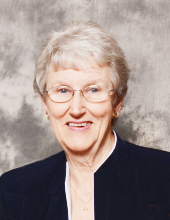 89
Hull, Iowa
July 7, 2021
Ella Mae Vande Burgt, 89, of Hull, Iowa, passed away Wednesday, July 7, 2021, at Avera McKennan Hospital and University Health Center in Sioux Falls, South Dakota.
Visitation with the family will be Saturday, July 17, from 12-1 p.m. at First Christian Reformed Church, Hull. Funeral service will follow at the Church with interment in Hope Cemetery, Hull.
Ella Mae was born May 4, 1932, in Orange City, Iowa, the daughter of Henry and Alice (Ruisch) Vlieger. She grew up near Maurice, Iowa, and attended Maurice school through her sophomore year when she and her mother moved to Orange City. She graduated from Orange City High School and completed one year at Northwestern Junior College in Orange City, after which she taught in a country school.
On Feb. 12, 1951, she married Wilfred Vande Burgt. The lived in Sparta, Wisconsin, while he was serving in the U.S. Army. Following his discharge, they returned to northwest Iowa and settled in Hull. In addition to being a wife and mother, she worked as a bookkeeper for her husband's feed grinding business and for Hull Christian School. Her husband passed away July 29, 2013.
At First Christian Reformed Church in Hull, she participated in Mission Guild and Coffee Break. She was also active in Hull Christian School Circle, American Legion Auxiliary, taught Friendship Bible classes, and corrected Bible lessons for Crossroads Bible Institute. During her retirement years, she volunteered at Hope Haven, Justice For All, The Hull Treasure Chest, and Meals on Wheels.
Survivors include five children, Evonne Wielenga of Maurice Jerry (Margie) Vande Burgt and of Salem, Oregon, Beverly (LaVerne) Sheldahl of Hull, Donna (Craig) Faber of Rock Valley, Iowa, and Harv (Marlene) Vande Burgt of Salem; 19 grandchildren and 36 great-grandchildren.
In addition to her parents and husband, she was preceded in death by a son-in-law, Jerry Wielenga; a granddaughter; three sisters, Jeanette Vlieger, Laura Pluim Korver and Margaret Hop, and four brothers, William Vlieger, James Vlieger, Harold Vlieger and John Vlieger.