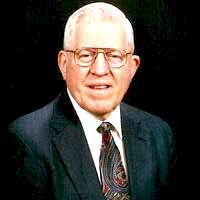 88
Sioux Center, Iowa
October 10, 2021
Edwin Boote, 88, of Sioux Center, Iowa, died Sunday, Oct. 10, 2021, at Royale Meadows Care Center in Sioux Center.
Memorial service was Wednesday, Oct. 13, at First Reformed Church, Sioux Center, with interment in Memory Gardens Cemetery, Sioux Center.
Edwin Boote was born Aug. 18, 1933, to John W. and Lydia (Beyer) Boote. He attended country school, Hull High School graduating in 1950 and Northwestern Junior College Class graduating in 1952. He served in the Army from August 1954-July 1956.
On April 9, 1957, he married Harriet Moss. They lived near near Hull before attending veterinary school in Ames. After graduating from Iowa State in May 1963, he returned to Hull to practice there. In the summer of 1972, the family moved to Sioux Center to work with veterinarians at Sioux Center Vet Clinic and later Northwest Veterinary Associates. Upon semi-retirement, he worked in association with Mix-Rite and later established Agri-Edge. He assisted at the sale barn until age 80.
He served on the Hull Public school board while living in Hull and served on the Northwestern board of trustees for a number of years.
Survivors include his wife, two daughters, Lila (Michael) Nash of Chattanooga, Tennessee, and Denice Boote of Sioux Center; three grandchildren; two great- grandchildren; three sisters-in-law, Carol Boote of Holland, Michigan, Vine (Arlin) Van Roekel of West Des Moines, Iowa, and Edna (David) Mast of Colorado Springs Colorado, with many nieces and nephews.
He was preceded in death by his parents; two sisters, Christina (William) Rens and Elsie (John) Koele, and four brothers, Herman (Grace) Boote, John (Hermina) Boote, Clarence Boote and Donald (Marilynn) Boote.