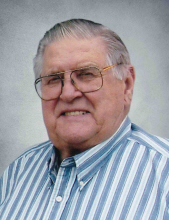 93
Rock Rapids, Iowa
October 2, 2020
Donald Kooiker, 93, of Rock Rapids, passed away Friday, Oct. 2, 2020, at Rock Rapids Health Care Center.
Graveside services were Tuesday, Oct. 6, at Hope Cemetery, Hull, Iowa.
Donald Lloyd was born June 26, 1927, near Hull, to Lambert and Gertrude "Dot" (Te Slaa) Kooiker. He grew up near Hull and attended country school and Hull High School. After graduation in 1945, he worked at his brother, Ralph's, factory before farming south of Doon, Iowa.
On Feb. 17, 1950, he married Frances Faber. They farmed near Rock Rapids 30 years. In February 1987, the couple retired and moved to Spirit Lake, Iowa. His wife passed away July 29, 2004. He moved to an assisted living center in Oskaloosa, Iowa, to be near his daughter. In July 2020, he became a resident of Rock Rapids Health Care Center.
Survivors include his daughter, Gayle (Dennis) Verploegh of Oskaloosa; one grandson; three great-children; two great-great-granddaughters; a sister, Gertrude Viola Van Driel of Rock Valley, Iowa, and many special nieces and nephews.
In addition to his wife and parents, he was preceded in death by his wife's parents, Steve and Hattie Faber; three brothers, Ralph Kooiker, Gerrit Kooiker and Albert Kooiker, and a brother-in-law, Peter J. Van Driel.