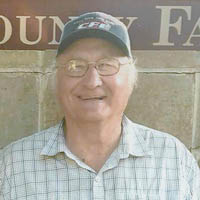 Dean Schmith
78
Boyden, Iowa
February 19, 2019
Dean Schmith, 78, of Boyden, Iowa, died Tuesday, Feb. 19, 2019, at Sanford Hospital, Sheldon, Iowa.
Funeral service was Saturday, Feb. 23, at St. Paul Lutheran Church, rural Hull, Iowa with Rev. Aaron Deutsh officiating. Burial will follow at the St. Paul Lutheran Church Cemetery.
Dean Schmith was born Dec. 10, 1940, near Doon, Iowa, to Arthur and Amy (Techen) Schmith. The family moved to a farm near Paullina, Iowa, where he attended Lutheran Parochial elementary school. The family then moved back to the Doon and George area and Dean finished high school in Doon.
On Sept. 2, 1960, he married LaDonna Harms. In 1962, they began farming and milking Holsteins. Survivors include his wife; six children, Ron (Marla) Schmith, Ricky (Sandy) Schmith, Randy (Janet) Schmith, Lisa (Gary) Vander Pool, Ryan (Britney) Schmith, and Roger Schmith; 19 grandchildren; 22 great-grandchildren; brother, Ken (Rosalie) Schmith; sister, Lila Hatting; sister-in-law, Elizabeth Schmith; brother-in-law and sister-in-law, Gerald and Patricia Harms; father- and mother-in-law, Sylvester and Heikalena Harms.
He was preceded in death by his parents; brother, Dale Schmith; brother and sister-in-law, Wesley and Connie Schmith; one grandson and one great-granddaughter.