Cora Engelsman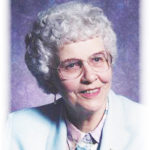 95
Sheldon, Iowa
December 20, 2018
Cora J. "Billie" Engelsman, 95, of Sheldon, Iowa, passed away Thursday, Dec. 20, 2018, at Sanford Sheldon Medical Center.
Funeral services were Saturday, Dec. 22, at Andringa Funeral Home Sheldon Funeral Service with interment in East Lawn Cemetery, Sheldon.
Cora Johanna "Billie" Klein was born Dec. 23, 1922, in Sioux Center, Iowa, daughter of Joe and Kate (Harmsen) Klein. She lived her youth in Sioux Center where she attended a country school. She worked in Grand Rapids, Michigan, at a defense factory and later in Denver, Colorado, at a candy factory. She moved back to Sioux Center where she worked at De Kraai Drug Store.
On May 5, 1947, she married Bert Engelsman. They lived in Boyden, Iowa, 43 years where they owned and operated a repair shop. Her husband passed away in 1991. She moved to Sheldon where she volunteered at Oak Park Care Center several years. She lived at Christian Retirement Home 10 years and then moved to Sanford Sheldon Care Center.
Survivors include her son, Danny (Cathy) Engelsman of Sheldon; four grandchildren and 12 great-grandchildren.
She was preceded in death by her husband; daughter, Debra; brother, John Klein, and three sisters, Alice (Hilbert) Heynen, Agnes (Dave) Sybesma and Dena (Clarence) Duistermars.