Clarice Vande Griend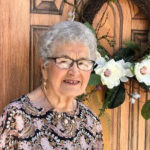 84
Sioux Center, Iowa
August 9, 2019
Clarice Vande Griend, 84 of Sioux Center, Iowa, died Friday, Aug. 9, 2019, at Sioux Center Health.
Funeral services were Monday, Aug. 12, at First Christian Reformed Church, Sioux Center, with interment in Memory Gardens, Sioux Center.
Clarice Pearl Dykstra was born Feb. 28, 1935, to Jake and Agnes (Faber) Dykstra. She grew up near Middleburg, Iowa, and attended a country school through eighth grade before going to Hull Western Christian High School where she graduated in 1952.
On May 5, 1953, she married Jerace Vande Griend. They lived in Hull, Hospers and Sioux Center, Iowa. She was a cook at Western Christian and the couple also had a carpet cleaning business for many years and performed custodial duties at First Christian Reformed Church in Hull. The couple retired to Sioux Center in 2003. Her husband passed away in 2013.
Survivors include six children, Jeff (Janie) Vande Griend of Sibley, Iowa, Kerwin (Kim) Vande Griend of Shoreline, Washington, Terry (Coby) Vande Griend of Lethbridge, Alberta, Canada, Mark (Kim) Vande Griend of Sioux Center,  Steven Vande Griend of Lynnwood, Washington, and Brian (Lori) Vande Griend of Colorado Springs, Colorado; 18 grandchildren; 28 great-grandchildren; one great-great grandchild; two sisters, Betty Smit of Orange City, Iowa, and Joyce Groeneweg of Sioux Center; sisters-in-law, Joyce Mesman of Hudsonville, MIichigan, Lyla and Don Boer of Hull, Myrna Koning of Grandville, Michigan, and Veralyn and Mert Plender of Denver, Colorado.
She was preceded in death by her parents; parents in-law, Floyd and Nelvia Vande Griend; husband; two grandsons and brothers-in-law, Arnold Smit, Ron Groeneweg, Hank Koning and Pete Mesman.