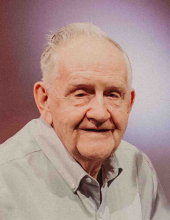 91
Hull, Iowa
October 6, 2020
Charles P. Kroese, 91, of Hull, Iowa, passed away Tuesday, Oct. 6, 2020, at Pleasant Acres Care Center in Hull.
Funeral service was Saturday, Oct. 10, at Oolman Funeral Home, Hull, with interment in Hope Cemetery, Hull.
Charles was born Aug. 27, 1929, near Hull, son of Peter and Cynthia Anneta (Te Slaa) Kroese. He grew up near Hull and attended country school. He enlisted in the U.S. Army and served as a medic in Germany two years during the Korean Conflict.
On Dec. 16, 1953, he married Darlene Grevengoed. They made their home near George, Iowa, and later on a farm near Hull, where he was a dairy farmer and seed corn salesman. In retirement, the couple moved into Hull and, in 2018, they became residents of Pleasant Acres Care Center. He served on the Hull Christian School Board, was a member of Wegman-Koele American Legion Post in Hull and sang as part of the Kroese Quartet. Survivors include his wife; five children, Dennis Kroese of Hull, Larry (Faye) Kroese of Doon, Doug (Deb) Kroese of Camdenton, Missouri, Paul (Dawn) Kroese of Orange City and Sandy (Scott) Guy of West Des Moines; 14 grandchildren; 18 great-grandchildren; a brother, John (Joyce) Kroese of Hull; a sister-in-law, Wilmina Grevengoed of Hull, and two brothers-in-law, Howard (Marilyn) Grevengoed of Hull and Alvin (Eileen) Grevengoed of Clever, Missouri.
In addition to his parents, he was preceded in death by his parents-in-law, Gerrit and Winnie Grevengoed; three sisters, Freda Kroese, Hilda (Tom) De Jong and Freda (Harry) Klay, and a brother-in-law, John Grevengoed.