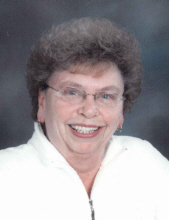 81
Hull, Iowa
November 1, 2020
Betty Van Schepen, 81, of Hull, Iowa, passed away Sunday, Nov. 1, 2020, at her residence.
Memorial service was Thursday, Nov. 5, at Hope Christian Reformed Church, Hull, with interment in Hope Cemetery, Hull.
Betty Van Leeuwen was born Sept. 22, 1939, in Denver, Colorado, daughter of Albert and Agnes (Steinberg) Van Leeuwen. Her family moved to Newkirk, Iowa, and later Hospers, Iowa, when she was a child. She graduated from the Western Christian High School in Hull.
On Sept. 30, 1960, she married Creston John "Tess" Van Schepen. They made their home in Hull and, for a time, in Ripon, California, before returning to Hull. She worked as a nurse aide at the Pleasant Acres Care Center in Hull a number of years and spent 25 years helping at Northside Court, a group home in Hull operated by Hope Haven. Her husband passed away April 18, 2006.
Survivors include her three children, Curtis (Twyla) Van Schepen and Cathy (Roy) Van Engen, all of Doon, Iowa, and Craig (Lisa) Van Schepen of Rock Valley, Iowa; 11 grandsons; four stepgrandchildren; 25 great-grandchildren; a sister, Joan (Andy) Miedema; three sisters-in-law, Jan (Gil) Blankespoor, Marly De Jong and Val Van Schepen; and a brother-in-law, Tim (Joy) Van Schepen.
In addition to her parents and husband, she was preceded in death by Creston's parents, Fred and Minnie Van Schepen; two brothers, Jacob (Cornelia) Van Leeuwen, and John (Evelyn) Van Leeuwen; two sisters, Joyce (Jim) Beltman and Kay (Bill) Beltman, and two brothers-in-law, Bruce Van Schepen and Bob De Jong.