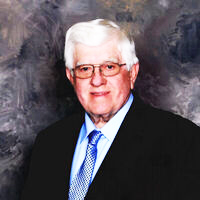 85
Rock Rapids, Iowa
December 8, 2020
Alfred "Al" Te Slaa, 85, of Rock Rapids, Iowa, died Tuesday, Dec. 8, 2020, at Avera Mc Kennan Hospital in Sioux Falls, South Dakota, from the COVID-19 virus.
Funeral service was Saturday, Dec. 12, at First Reformed Church, Rock Rapids, with interment in Riverview Cemetery, Rock Rapids.
Alfred Dale Te Slaa was born Nov. 18, 1935, near Hull, Iowa, son of Gerrit and Etta (De Vries) Te Slaa. He grew up on the family farm and graduated from Hull High School in 1953. After receiving his education, he started his lifelong career in farming.
On June 2, 1955, he married Lenora Dunnick.
On March 8, 1997, he married Phyllis Morlock.
In 1962, he moved to a farm near Rock Rapids, where he farmed 58 years. Along with crop farming, he fed cattle.
Survivors include his wife; his children, Cheryl (Bernard) Hoogland of Longmont, Colorado, Gary (Barb) Te Slaa of Inwood, Iowa, Loren (Susie) Te Slaa of Sioux Falls, South Dakota, and Kris Hayes of Alexander, Minnesota; his stepchildren, Cindy (Stan) Hulstein of Sioux Falls, Randy (Laurie) Wissink of Eugene, Oregon, Chris Wissink of Sioux Falls and Jennifer (Chris) Kipp of Woodinville, Washington; 15 grandchildren; eight great-grandchildren and siblings, Harriett (Les) Morris of Castaic, California, Thelma (Harlan) Ten Haken of Hull, Kenneth Te Slaa of Waverly, Iowa, and Evey Bakker of Hull.
He was preceded in death by his parents; toddler brother, John, and an infant grandson.