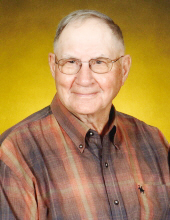 97
Luverne, Minnesota
April 3, 2021
Albert Boeve, 97, of Luverne, Minnesota, passed away Saturday, April 3, 2021, at Sanford Luverne Hospice Cottage.
Funeral service was Wednesday, April 7, at American Reformed Church, Luverne, with interment in Maplewood Cemetery, Luverne.
Albert was born March 30, 1924, near Hull, Iowa, to Henry and Ella (Bos) Boeve. He attended country school through eighth grade, then worked for area farmers. He was drafted into the U.S. Army in February 1945 and honorably discharged as a corporal in December 1946.
On Feb. 14, 1947, he married Cynthia Intveld. They lived near Sheldon, Iowa, until moving south of Luverne in March 1948. In 1981, they moved into Luverne, however, he continued farming several more years. His wife passed away Nov. 13, 2010.
Survivors include three children, Allen (Elaine) Boeve of Steen, Minnesota, Randall (Becky) Boeve of Slayton, Minnesota, and Myron (Shirley) Boeve of Luverne, Minnesota; seven grandchildren; 16 great-grandchildren; brothers, Arthur Boeve of Hills, Minnesota, and C. James Boeve of Beaver Creek, Minnesota; sisters, Doreen (Arnold) Hulshuf of Sioux Center, Iowa, Eleanor Warntjes of Hull and Helen Overman of Rock Rapids, Iowa; brother-in-law, Bill Ostra of Winnconne, Wisconsin; and sisters-in-law, Joan Boeve of Hills, Lois (Roger) Baatz of Rock Rapids and Arlene Traber of Sioux Falls, South Dakota.
He was preceded in death by his wife; parents; brothers, Henry C. (Joanna and Darlene) Boeve, Case (Elizabeth) Boeve, Donald Boeve, Everett Boeve, Merlin Boeve, Gary Boeve and Ervin (Sara) Boeve; sisters, Gertrude (Gilbert) Leusink and Lois Ostra; brothers-in-law, John Warntjes and Tunis Overman, and sisters-in-law, Henrietta Boeve and Sharon Boeve.