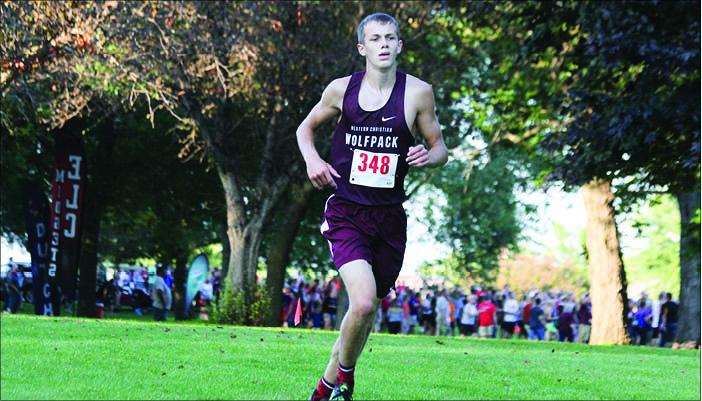 SPIRIT LAKE-Due to the cancellation of the Spencer cross-country meet Thursday, Aug. 24, the Western Christian girls' and boys' cross-country teams had to start their 2017 campaign at the Spirit Lake Invitational Tuesday, Aug. 29 at Brooks National Golf Club. Neither team really seemed to mind that fact as the girls took sixth place as a team overall while the Class 2A third-ranked boys claimed second as a squad.
The Wolfpack girls have a lot of experience coming back from last season after falling a few points short of sending the entire team to Fort Dodge a season ago. Therefore Western Christian wanted to start the season on a high note and took a big step in doing that with 148 points and a sixth-place team finish. LeMars was the meet champion with 73 points.
"There were a lot of good teams at that meet. With that being said, I thought they did well," said Wolfpack coach Dalton Lems. "A sixth-place finish you can look at either way. But I thought a sixth-place finish was good for us as it was our first meet of the year and, based on the talent that we lost last year compared to what we have back."
Leading the way individually for Western Christian was Sydney Stiemsma in 15th place and Whitney Minderhoud, individual state qualifier from a season ago, finished 16th.
"Both those two runners ran good. Sydney took it out strong and really focused on staying out with that front group," Lems said. "Then Whitney did what Whitney does. She slowly plugged away and got back to the front there. Those two really keyed off each other in that last mile."
Mary Kate Postma rounded out the Wolfpack runners that placed in the top-25 by taking the 23rd position.
"She had a good race last night. She's been pretty consistent her whole career at Western with finishing in that top-20 area or right in that top-20 area all the time," Lems said.
Rounding out the team were Rachel Heynen in 40th and Braelynn Kamstra in 58th. It was the first time Kamstra ran in a high school race, but Lems said Kamstra could keep that fifth running position for a few meets down the road.
"It was kind of a 'throw her into the fire' type thing with a freshman, it being her first race out there and putting her into those circumstances. But she seemed ready for it," Lems said. "It's going to take a couple of races for her to get used to the high school running scene, but I really think she's got some very good potential."
The Western Christian boys came into the week ranked third in Class 2A behind first-place Mid-Prairie and district rival George-Little Rock/Central Lyon. The Wolfpack were able to defend that ranking, claiming second place as a team with 109 points.
"I was happy with second place. We came in not knowing what to expect. After having Tristan Hulstein as kind of a lead dog, it's a big role to fill. But they did a good job. They really stepped up as a group and filled that position," Lems said.
Leading the way for the Wolfpack were two individuals currently ranked in Class 2A. Sixteenth-ranked Zach Elbers placed eighth and 17th-ranked Jon Veldman claimed 20th.
Coach Lems said Elbers will be the new "lead dog" this season.
"He started out the race strong, got out with that front group right away and he held on with that front group the whole race," Lems said. "Top-10 is kind of what we're looking for as the guys are really going to key off him."
Western Christian was able to do that in this meet as it rounded out the scoring with four other runners claiming top-35 finishes. Carson Elbers took 21st, Andrew Cox took 29th, Jeff De Kam 31st and Michael Van Den Top 34th.
"We do have a little bit of a gap between Zach and the rest of the guys, but as the year goes on and progresses that's going to get better," Lems said.
Ethan Spronk was the final Western Christian runner on varsity and placed 39th, but Lems noted that the final sixth and seventh spots on varsity are still up for grabs.
"That seventh spot, and possibly that sixth spot, are going to change throughout the season. Those front JV guys are running well already," Lems noted. "There is no promise that you are going to stay as our seventh or sixth runner. Whoever runs hard, progresses and continues to show they have what it takes to be on that varsity level for the guys' team is going to have that spot."
Spirit Lake Cross-Country Invitational at Brooks National Golf Club
Girls' team results:1. LeMars 73 points, 2. Spencer 91 points, 3. Spirit Lake 98 points, 4. Okoboji 100 points, 5. Unity Christian 114 points, 6. Western Christian 148 points, 7. Estherville Lincoln Central 158 points, 8. MOC-Floyd Valley 166 points, 9. Pocahontas Area 178 points, 10. Cherokee 237 points.
Individual Western Christian girls' results:15. Sydney Stiemsma 21:15, 16. Whitney Minderhoud 21:18, 23. Mary Kate Postma 21:45, 40. Rachel Heynen 23:04, 58. Braelynn Kamstra 24:34.
Boys' team results:1. LeMars 89 points, 2. Western Christian 109 points, 3. Spirit Lake 120 points, 4. Storm Lake 122 points, 5. Okoboji 126 points, 6. Unity Christian 131 points, 7. Sheldon 143 points, 8. MOC-Floyd Valley 153 points, 9. Spencer 161 points, 10. Cherokee 274 points, 11. Estherville Lincoln Central 280 points, 12. Pocahontas Area 323 points.
Individual Western Christian boys' results:8. Zach Elbers 16:59, 20. Jon Veldman 17:34, 21. Carson Elbers 17:42, 29. Andrew Cox 18:05, 31. Jeff DeKam 18:11, 34. Michael Van Den Top 18:27, 39. Ethan Spronk 18:41