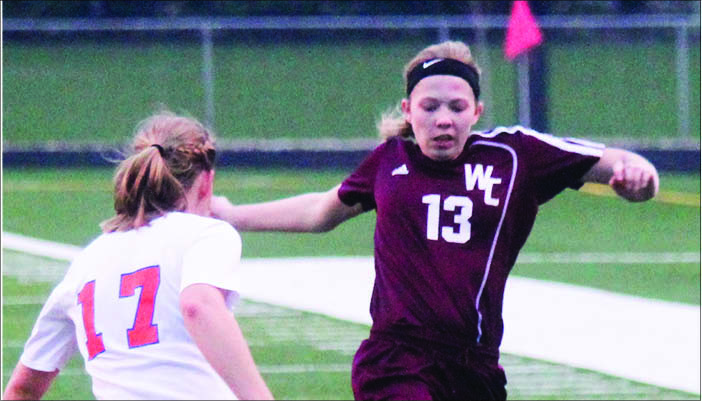 SIOUX CENTER-Western Christian girls' coach Jocelyn Nollmeyer had concerns going into the Wolfpack's first soccer game of the 2017 season against Sioux Center, but they were quickly put to rest in a 3-0 non-conference victory Monday, April 3.
"Going into this game I had a pretty good idea of what my team would look like, thanks to a handful of preseason scrimmages. However, with two key players out with sickness and injury and two forwards battling injuries, I was still unsure how my young team would respond to their first match," Nollmeyer said.
It did not take long, however, for the Wolfpack to overcome those illnesses and injuries as Mekenna Kooima tallied the first goal of the game at about the 15-minute mark off a pass from Erica Bousema. The game went into intermission with a 1-0 Western Christian advantage.
Ten minutes into the second half, Western Christian got on the board again with a goal from the middle by Bousema off a pass from Jordyn Marra. Seventeen minutes later, Tori Wynja found an opening and scored an unassisted goal off her right foot and sealed the three-goal victory.
"I was pleasantly surprised. We have new faces in our lineup from top to bottom, but all 11 starters — and my handful of reserves — came to play last night. Two freshmen ended up finding the back of the net (Kooima and Wynja), along with our senior forward (Bousema). I love that," Nollmeyer said. "I will always hope we can have multiple goal scorers each game so there is no one athlete on my team opponents can mark out of the game."
Nollmeyer noted that ball movement was the key.
"Jordyn Marra stood out in the midfield last night. She distributed the ball very well and made several clean connections with Erica in the attack. These two become dangerous in our offense because, although both are hungry for goals themselves, they are smart. They'll lay a ball out to a teammate who has a better angle on goal before they take a bad shot," Nollmeyer said.
April Van Tol was the keeper for the Wolfpack and ended the game with six saves. Western Christian attempted 16 shots with 11 of those coming on goal.
Western defeats MOC-Floyd Valley
HULL-It was a familiar situation for the Western Christian girls' soccer team as the Wolfpack went into penalty kicks for the second-year in a row against MOC-Floyd Valley. But this time the Wolfpack came out on top and claimed the 2-1 victory Tuesday, April 4.
The first half went scoreless before MOC-Floyd Valley took the lead at 1-0 at the 44-minute mark of the game. But Western Christian caught a break before the end of regulation as Jordyn Marra had an indirect kick, but the goalie tipped the ball as it found the back of the net to send the game into overtime.
"We battled back and forth the first half and kept it scoreless. Then after a foul in the box was called in the 44th-minute, MOC scored that PK. I hardly remember what happened in between that and Jordyn's indirect kick was, luckily, touched by the goalie and into the back of the net," said coach Jocelyn Nollmeyer. "I am very unsure if Jordyn realized that had that goalie not touched the ball, her goal wouldn't have counted. It was a great strike. Not typically what a team plans to do on an indirect. Hey, whatever works."
Neither team was able to tally a goal in the first or second overtime periods which forced the game into penalty kicks. The Wolfpack got to shoot first and took the 1-0 advantage off the foot of Marra. But the Dutch came right back with a goal of their own, making the score 1-1. Both goalies then had four-straight saves, before a miss by Amanda Van Tol on the fifth attempt by Western Christian. But the Dutch were unable to score, forcing another sudden-death PK attempt.
Erica Bousema was next up and she used her right foot to find the back of the net, forcing the Dutch to have to hit their PK to keep the game alive. But MOC-Floyd Valley was unable to get that done as April Van Tol came up with the save and Western Christian walked away with the 2-1 victory.
"Scoreless again in two overtimes. April (Van Tol), my goalie, had already had 29 saves. I just needed a couple more from her and she did just that," Nollmeyer said.
A year ago the Wolfpack went into PKs with the Dutch in Nollmeyer's first game as head coach and Western Christian came away with the 3-2 victory. Nollmeyer said this game had a very similar feel.
"Wow. Did this really just happen to me again? Last year, my first game as head coach, we played MOC-Floyd Valley at home. That game also went into a shoot-out where we finished on top. When we finished our second OT scoreless, I could hardly believe it was happening again," she said. "MOC-Floyd Valley is a solid team all the way around. I told my girls before the game that this team will put the pressure on us right away. They did just that."
As a team Western Christian finished the night with 13 shots, of which eight came on goal. Wolfpack keeper April Van Tol finished the night with a season-high 33 saves.
Western falls to an experienced Spencer squad
HULL-The Western Christian girls' soccer team had the tough task of going up against one of the favorites to win the Lakes Conference title this season. In the end the Wolfpack fell 3-0 to Spencer Thursday, but Western Christian felt it played a clean game that it can build on for the future.
It was 1-0 Tigers after the first half, before Spencer countered with two more goals in the second half. Despite the final outcome, coach Jocelyn Nollmeyer saw a lot of positives. One was the Wolfpack's seven shots taken in the game, of which five came on goal.
"This game made us better and I told the girls this before the game started. This team is well seasoned and many of the girls who play for Spencer have been playing soccer for a long time," Nollmeyer said. "I believe we made the game competitive. We had opportunities throughout the game to score. It just didn't happen for us tonight."
Nollmeyer felt her team will have a better chance of coming away with an upset as they will face Spencer again in Spencer May 4.
"What excites me about this game and my team is that by the next time we play Spencer we will be a whole different team. By then, my hope is, that the girls who are battling injuries will be back in the lineup full-time. In addition, because my girls aren't playing soccer year-round, it is easy to see how they improve exponentially in the season. Come May they will have improved touch, field awareness and trust in each other."
April Van't Hul finished the game with 19 saves as the goalie.