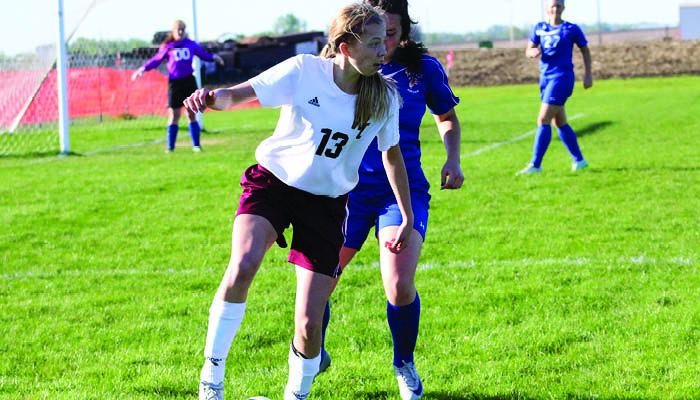 ORANGE CITY-There was no score at the end of the first half, but that didn't stop the Western Christian Wolfpack girls from rallying to score three times in the second half for a 3-0 win over Unity Christian Monday, May 8.
"Our talk before the game included taking risks, using the wind the first half to loft outside shots, and also being aggressive," said Western Christian coach Jocelyn Nollmeyer. "Although we did not score the first half, I was proud of how we were playing. The girls kept the ball on the ground and found each other's feet. We had more than a handful of opportunities to score but all too often missed wide or hit a crossbar."
The second-half scoring for the Wolfpack started in the 50th minute as Makenna Kooima scored off a pass from teammate Erica Bousema. Jordyn Marra, in the 56th minute tallied a goal off an assist from Brianna Kollis. Finally, in the 68th minute, Emma Bousema scored the final goal off an assist from Erica Bousema.
"It was about time we had a game with multiple goal scorers, which is a top priority for me," said Nollmeyer. "Obviously, we knew that marking (Jori) Bronner out of the game would be key to preserving the shutout. My defense communicated well and kept the pressure on throughout the course of the game."
Western Christian had a total 13 shots on goal for the night. Kooima, Marra and Emma Bousema each went one-for-four on shots. Erica Bousema picked up two assists and Kollis picked up one.
"Overall, I'm pleased with how this game went. Now onto the next one," Nollmeyer said.
Wolfpack routs Sioux Center 7-0
HULL-Western Christian had almost everything working in a non-conference girls' soccer game against Sioux Center Tuesday, May 9, and it did not take long for the Wolfpack to come away with a 7-0 victory.
Western Christian held a 3-0 lead after the first half with unassisted goals from Makenna Kooima and Erica Bousema within the first five minutes of the game. The final goal of the first half came off the right foot of Bousema after Georgia Van Essen found her open in the middle of the field.
In the second half, the Wolfpack got unassisted goals from Jordyn Marra in the 44th minute and the 50-minute mark of the game. Seven minutes later, Kooima dished off a pass to Emma Bousema and her right leg made the score 6-0. Two minutes later, the final goal of the game was a header by Madison Byl off a corner kick.
"This game was one we seemed to have controlled from start to finish. I was very pleased to have several different scorers throughout the game," said Western Christian coach Jocelyn Nollmeyer.
But Nollmeyer noted her team did not take full advantage of the opportunities it had. The Wolfpack took 25 shots in the contest with 18 of those coming on goal.
"If there was one criticism I could give it was that we had many shots that went right to Sioux Center's goalie and several of them were one-versus-one," she said.
That said, Nollmeyer was pleased with her team's overall effort.
"However, that would be the only critique I have. The girls played with poise, possessed the ball, kept the ball on the ground and played aggressively. It was fun to watch them string together passes and communicate well on the field," she said. "Overall, I am pleased with how all of them played and expect to carry this into our next two games this week."
Well-balanced game continues against West Sioux
HULL-For the third game this week, the Western Christian girls' soccer team had a balanced attack on offense and had the defense to back it up, to defeat West Sioux 5-0 in non-conference girls' soccer Thursday.
The first goal of the game was scored by Emma Gulker off a pass from Erica Bousema. The score remained 1-0 for halftime. The scoring picked up in the second half with two goals from Bousema, one from Jordyn Marra, and the final goal of the evening from Lindsey Van Otterloo. Van Otterloo and Bousema also had one assist each in the second half.
"Tonight was another good night for the 'Pack. The girls have been playing well this last week despite a heavy game schedule. Each game they up their level of play a bit at a time. Whether that is their spacing, their combination play or their choice of shot," said Wolfpack coach Jocelyn Nollmeyer.
Nollmeyer noted the balanced and aggressive offensive attack as one of the keys. Western Christian took 27 shots all night with 19 of those coming on goal.
"Along with playing well there has been multiple scorers this week. I've said it before, but I'll say it again, that is important to me," Nollmeyer said. "I don't want it to be easy for opponents to mark one of our players and hope we don't score. I want to have multiple girls willing and able to take and finish shots."
Adding to that offense was a good defense. Aubrie Van Bemmel was the goalie and only needed to save the ball once.
"Out defense tonight did a fantastic job of keeping the ball in front of them and helping our attack feel supported. My midfielders held space tonight in the middle as well as distributing the ball well," Nollmeyer said."Jordyn, Madison (Byl), and Rach (Rachel Heynen) all did a great job. Not only that, but our forwards looked very quick tonight. Both Emmas (Emma Bousema and Emma Gulker), Erica (Bousema) and Makenna (Kooi) looked like they had fires lit behind them. They were tenacious in the box tonight and they all looked hungry to find the goal."
Western falls to Unity 2-1 in OT
HULL-The Western Christian girls' soccer team kept the game close, but the Wolfpack could not overcome their off night and fell 2-1 in overtime in a non-conference game with Unity Christian Friday.
The scored was tied at 1-1 after halftime with Western Christian's goal coming off the foot of Jordyn Marra and assisted by Rachel Heynen. The score remained tied at 1-1 at the end of regulation to force overtime. Two minutes into the extra frame the Knights got the game-winning goal to drop the Wolfpack's record to 9-4 overall.
Coach Jocelyn Nollmeyer said her team simply was unable to take advantage of its opportunities.
"Tonight wasn't our night. Despite 25 shots and 14 of those on goal, we just weren't able to find the back of the net," she said. "We had ample opportunity, several corner kicks and a handful of really beautiful crosses, we just couldn't quite find our far post girl for the finish. All these things we will bring to practice next week."
Aubrie Van Bemmel was the keeper. She finished the night with two saves.