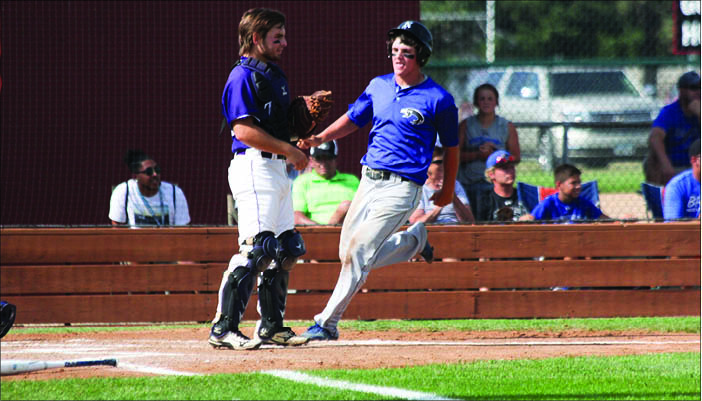 LeMars0-0-0-0-0-0-00
Boyden-Hull/Rock Valley0-2-0-1-1-0-04
ROCK VALLEY-Zach Noble and Mitchell Diekevers combined on the mound for a shutout on the mound while the Boyden-Hull/Rock Valley offense got key at-bats when needed for a 4-0 non-conference baseball win over LeMars Monday, July 10.
Noble was the starting pitcher in this contest and went five and one-third innings with three hits, no runs, one walk and nine strikeouts. Diekevers came out of the bullpen to throw the final two and two-thirds innings with two hits, no runs, one walk and four strikeouts.
"I think he (Noble) pitched his best game (of the season) last night. We held his pitch count down because he's going to pitch on Friday with districts. So we held his pitch count down, but he still did a fantastic job," said Nighthawks' coach Doug Bundy. "Then Mitchell came in and pitched a really good two and two-thirds innings. That was good too and it was nice to see. That should help their confidence level, too, going into Friday night's game for the first round of districts."
Offensively, Boyden-Hull/Rock Valley was limited to four runs but Bundy noted those runs came at key times. The Nighthawks broke the scoring with two in the bottom of the second and added insurance with single runs in the fourth and fifth.
"It wasn't high-scoring, so we had to produce some runs and we did that," he said. "That was good to see as one of our guys, Dylan Van Der Brink, got hit by the pitch. We moved him with a bunt and I think we got him in on a wild pitch. Dylan also had a sacrifice fly earlier for an RBI and Zach Noble had a one-run single. The guys were doing their jobs. When you go against good teams, you've got to create some runs and you've got to manufacture some runs. It was good to see us do that last night."
The final offensive numbers had Diekevers with a double and one run. Brett Moser had one hit and one run. Noble had one hit, one run and one RBI. Van Der Brink had a run and one RBI. Zach Kooiker had one RBI.
Bundy felt this was a good game to end the regular season on and for Boyden-Hull/Rock Valley to begin postseason play with Spencer in LeMars Friday, July 14.
"My goal was to keep these guys enthusiastic the whole year and they really have been. I think they are really looking forward to districts this year. They're enthusiastic and they want to play baseball," Bundy said. "Their confidence has to be pretty high, especially defense and pitching. We've played pretty good (in those two areas) the last month of the season. Hitting-wise we've fluctuated a little bit, but we know what we are capable of."
Nighthawks earn first district win in three years
Boyden-Hull/Rock Valley3-0-0-2-1-0-17
Spencer0-0-0-0-0-0-00
LEMARS- Boyden-Hull/Rock Valley's offense has been rather inconsistent for much of the season but the Nighthawks got the key hits when they needed them to support another strong outing by Zach Noble on the mound for a 7-0 Class 3A sub-state 1 district 2 baseball tournament victory over Spencer Friday, July 14.
The home team was determined by a coin toss prior to the game and the Tigers won those honors, letting the Nighthawks bat in the top of the first inning. Boyden-Hull/Rock Valley, for the first time in a little while, took advantage of that opportunity by scoring three runs. Shane Solberg led off the game with a slow roller to third base, but hustled down the line to grab an infield single. Jackson Mulder followed that up with a single into center field to put two runners on base with no outs. Following a strikeout, Brett Moser broke the early 0-0 tie with a hard double into center field. Noble and Dylan Van Der Brink kept the hit parade going with back-to-back one-run singles.
That early lead allowed Noble to focus on attacking the strike zone for the rest of the game. Noble threw a complete game shutout with three hits, no walks and four strikeouts.
"It (the three-run lead) takes the pressure off a whole lot. It makes it seem like it's easier to throw strikes and to throw harder," Noble said.
Noble added that he has a strong supporting cast behind him.
"I do have a lot of trust in them, but I just try and throw strikes," he said. "Sometimes that results in a strikeout, but if they do hit it my guys make the plays all the time and I trust them with anything."
Coach Doug Bundy noted that Noble has put together two strong starts in a row when the team needed it the most.
"He was in command all game long. His control was there, he hit his spots and he didn't have any walks. Just an awesome job by Zach," Bundy said. "His last two games have been his best two games of the year."
Meanwhile, the Nighthawk offense continued to come up with key hits. After two scoreless frames in the second and third, Boyden-Hull/Rock Valley scored two in the fourth and one run each in the fifth and seventh. In the fifth inning, Moser led off with another double to deep center field. Brett Vander Wilt came in to pinch run and moved to third on a wild pitch with Cade Moser reaching first on a dropped third strike to put runners on the corners with no outs. Following a pickoff at first base, a steal and a wild pitch to send Cade Moser to third base, Van Der Brink sent the run home off a line-drive single down the left field line.
In the seventh inning, Brett Moser led off with a single into center field and was courtesy run for by Vander Wilt. Following a fielder's choice from shortstop to second base, Noble hit a single into right field to put runners on the corners with only one out. The next batter popped out before Cade Moser scored on a double steal of home and second base.
Overall, Bundy felt the offense had one of its best games of the season. Brett Moser ended up being the top hitter with three hits, two of them doubles, one run and one RBI. Solberg had two hits, one run and one RBI. Mulder had two hits and one RBI. Cade Moser had two hits, two runs and one RBI. Noble had two hits, one run and one RBI. Van Der Brink had one hit and one RBI. Eric Salazar had one hit and one run. Dylan Harman had one hit. Mitchell Diekevers walked once and scored once.
"We were patient and we had good at-bats," Bundy said. "Their pitcher came out and had a little control problem, so we took advantage of that and we got some key hits which we haven't been getting all year. Finally, the baseball gods were looking out for us."
Boyden-Hull/Rock Valley advanced into the district final to play LeMars Monday, July 17 following press deadline. The Bulldogs beat Spirit Lake 5-0 Friday, July 14. Bundy said he has confidence in his team to get the job done and advance to the sub-state game.
"We're probably playing our best baseball right now, which is what you want to do at this time. We're having a lot of fun and the boys played really well," Bundy said. "I think it (the win) gives us a little confidence, but I think the kids know that you have to show up every day. Just because we got one win, it doesn't mean we're going anywhere. I think the kids know what they have to do: come back Monday and play another good, smart baseball game."