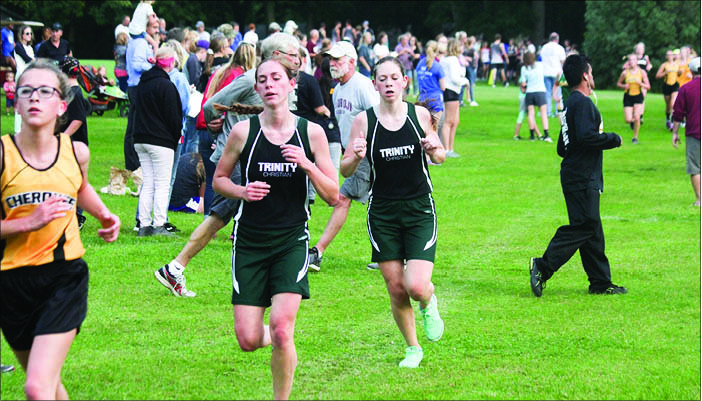 MILFORD-The Okoboji Invitational at Woodlyn Hills Golf Club Thursday, Aug. 31, was the first meet of the 2017 season for the Boyden-Hull/Rock Valley and Trinity Christian cross-country teams. Both squads wanted to test the waters and both teams liked what they saw, but hope continued improvement is in the future.
The Nighthawks went with two runners on varsity, Lizzy Blum and Emily De Ruyter. Both runners are veterans in the program and they proved that fact. Blum finished the night in eighth place with De Ruyter claiming 14th overall.
"I always try to get to the kids before they run. So talking to Lizzy and Emily I told them that our goal is to finish in the top-20. That's what we want to do," said Boyden-Hull/Rock Valley coach Tim Brunsting. "Lizzy had a great start and Emily was right there with her."
Brunsting noted that both runners were toward the front of the pack for much of the race.
"At one point I think Lizzy was ninth or tenth in the race so she was able to pick off a couple spots. As the season progresses, I think she will be able to pick off some of those girls that where ahead of her at the end there," Brunsting said. "Then I thought Emily ran just a solid race. I think she was in the 18 to 19 range and caught a few girls. Then she just stayed comfortable in that 14 spot, didn't get too pushed from behind and had an opportunity to catch a few girls."
Despite only having two girls run varsity in this meet, Brunsting noted that may change for future meets.
"A lot of the girls going into tonight, besides Lizzy and Emily, haven't had any varsity experience. So I just kind of told the girls, 'Let's just get our feet wet and let you get comfortable in these meets'," Brunsting said. "You can work hard in practice, but that meet is always going to be a little bit different. I think there will be a few girls in the next two or three races that are going to step in and fill a couple of spots on varsity."
The Tigers also only ran two girls, but mostly due to the fact they only have two girls on that side of the program. That said, coach Dillon Brummel felt it was a good first night out for both Brooke Van Engen and Heather Van Engen. Brooke finished 46th and Heather finished 51st.
"I think they did well. I think they pushed each other kind of how I wanted them to," Brummel said. "it only goes up from here."
As far as complete teams, Kingsley-Pierson/Woodbury Central won the team title with 28 points. Host Okoboji took second place with 72 points.
On the boys' side, the Nighthawks had four runners competing at the varsity level for the first time. But those runners were able to carry that junior high success to the high school level, at least for the first meet of the season, as the Nighthawks took third place as a team with 140 points. Sioux Center took the team title with 84 points.
"I was pretty pleased. You never know what you're going to get when you've got freshmen running. Four out of the seven runners we had were freshmen," Brunsting said. "They had a good junior high season, but from junior high to the high school level is a lot different. You're running farther and there is a lot more people."
One of those freshman runners, Marco Lopez, led the way for Boyden-Hull/Rock Valley. Lopez medaled with a 13th-place finish.
"Looking at the makeup of this team, I think Marco is going to lead us quite often. The kid is just a good runner. He was in the low 20s to begin the race and he just kept picking people off to finish 13th," Brunsting said. "He just continues to get better and just gets stronger as the race goes on."
Rounding out the top runners were Ian Van Grootheest in 27th, Kaden Top in 31st, Logan Moore in 34th, Caleb Westra in 35th and Dayton Brunsting in 37th.
"I know there were some nerves for those boys, but it was a good meet. Last year at this meet we finished seventh and this year we finished third as a team. Where we finished was really encouraging and we were in a nice pack," coach Brunsting said.
The Trinity Christian boys have high expectations for the 2017 season and, despite the sixth-place finish, the Tigers felt they took a step forward into accomplishing those expectations.
"I think they tried hard and I'm not too upset with sixth place," Brummel said. "There were a lot of talented teams there. We may not have had the best race, but I liked the effort we showed and it's only up from here with it being the first meet."
Sam Laning was the top runner for Trinity Christian with a 15th-place finish. Caleb Meyer took 22nd with Braxton Brummel rounding out the top runners with a 39th-place finish.
"Fifteenth is kind of what I thought he (Laning) would get. With him being our only senior, he's our leader for us," coach Brummel said. "Then I really thought with this being his first (varsity) race the freshman (Braxton Burmmel) did really well for himself. He really pushed himself to get 39th."
Coach Brummel feels the improvements will continue to come for his team.
"I think we just need to get a little more conditioning in, keep up our effort and our attitude, and I think it's only going to be good from there," the coach said.
Okoboji Invitational cross-country meet at Woodlyn Hills Golf Club in Milford
Girls' team results:1. Kingsley-Pierson/Woodbury Central 28 points, 2. Okoboji 72 points, 3. Emmetsburg 96 points, 4. Estherville Lincoln Central 115 points, 5. South O'Brien 182 points, 6. Cherokee 177 points, 7. West Bend-Mallard 224 points, 8. LeMars Gehlen Catholic 261 points, 9. Sioux Central 302 points.
Individual results:8. Lizzy Blum (BHRV) 21:58, 14. Emily De Ruyter (BHRV) 23:03, 46. Brooke Van Engen (TC) 26:46, 51. Heather Van Engen (TC) 27:11
Boys' team results:1. Sioux Center 84 points, 2. Okoboji 103 points, 3. Boyden-Hull/Rock Valley 140 points, 4. Sibley-Ocheyedan 149 points, 5. Remsen-St. Mary's 182 points, 6. Trinity Christian 188 points, 7. South O'Brien 230 points, 8. LeMars Gehlen Catholic 248 points, 9. Emmetsburg 259 points, 10. Cherokee 261 points, 11. Estherville Lincoln Central 267 points, 12. Hartley-Melvin-Sanborn 295 points, 13. Kingsley-Pierson/Woodbury Central 331 points, 14. West Bend-Mallard 336 points.
Individual results:13. Marco Lopez (BHRV) 18:57, 15. Sam Laning (TC) 19:06, 22. Caleb Meyer (TC) 19:42, 27. Ian Van Grootheest (BHRV) 20:02, 31. Kaden Top (BHRV) 20:06, 34. Logan Moore (BHRV) 20:13, 35. Caleb Westra (BHRV) 20:13, 37. Dayton Brunsting (BHRV) 20:16, 39. Braxton Brummel (TC) 20:22, 41. Dallas Van Ginkel (TC) 20:34, 47. Justin Sears (BHRV) 21:05, 71. Thomas Brummel (TC) 22:10, 78. Luke Andringa (TC) 22:39.