Matilda Alons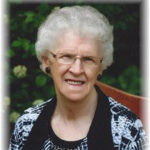 95
Sanborn, Iowa
April 12, 2019
Matilda Alons, 95, of Sanborn, Iowa, passed away Friday, April 12, 2019, at Prairie View Home, Sanborn.
Funeral services were Monday, April 15, at Cornerstone United Reformed Church, Sanborn, with interment in Roseland Cemetery, Sanborn.
Grace Matilda Donkersloot was born June 4, 1923, at Boyden, Iowa, the daughter of John and Johanna (Rutgers) Donkersloot. In 1928 the family moved to the Sanborn area. She attended a rural school, then went to Sanborn Public School for three years of high school and graduated from Western Christian Academy in Hull in 1939. She attended Northwestern Junior College in Orange City two years and received a teaching certificate. Shetaught in two country schools and Sheldon Christian School.
On June 20, 1946, she married Daniel Alons. They farmed in the Sanborn area until moving into town in 2016. 
Survivors include five children, Judith (Loren) Van Duyn of Liberty, Missouri, Kenneth (Brenda) of Valley Springs, South Dakota, Lois (Larry) Postma of Sheldon, Iowa, Myrna Roder (fiancé Jerry Breuker) of Arnold's Park, Iowa, and Norma (Randy) Geels of Sioux Center, Iowa; 17 grandchildren; 38 great-grandchildren; one great-great-grandchild; one brother, Marvin (Luann) Donkersloot of Sheldon, and sister-in-law, Marie Donkersloot of Worthington, Minnesota.
She was preceded in death by her parents; brothers, Ray (Alyda) Donkersloot, Henry (Bernice) Donkersloot and Al Donkersloot; sisters, Gert Donkersloot, Gladys (Earl) Elgersma; son-in-law, Allen Roder, and a grandson.