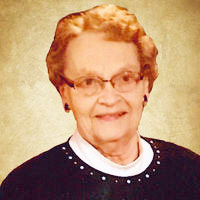 Lois Sietstra
90
Boyden, Iowa
January 9, 2020
Lois Sietstra, 90, of Boyden, Iowa, died Thursday, Jan. 9, 2020, at Fieldcrest Assisted Living in Sheldon, Iowa.
Memorial service was Monday, Jan. 13, at United Presbyterian Church, Boyden, with interment in Sheridan Township Cemetery, Boyden.
Lois Maxine Horn was born May 27, 1929, near Boyden, the daughter of Joe and Gertrude (Scholten) Horn. She graduated from Boyden High School.
On Jan. 6, 1949 she married Peter Sietstra. They lived in Boyden until March 2018 when they moved to Fieldcrest Assisted Living in Sheldon.
Survivors include her husband; four children, Robert (Wanda) Sietstra, Karen Sietstra and Loren (Carla) Sietstra, all of Boyden, and Carol (Scott) Schuerman of Marion, Iowa; eight grandchildren; 13 great-grandchildren; three sisters, Joyce Vander Haar of Mesa, Arizona, Mildred Blankers of Sheldon and Bonnie (Scott) Koehler of Delta, Colorado; two sisters-in-law, Joyce Sietstra of Pella, Iowa, and Reka Sietstra of Jenison, Michigan; nieces and nephews.
She was preceded in death by her parents; brother and sister-in-law, Marvin and Virginia Horn, and brothers-in-law, Dwight Vander Haar and Dwight Blankers.