John Rensink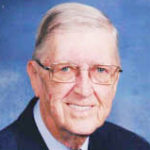 81
Orange City, Iowa
Sept. 7, 2019
John Lee Rensink, 81, of Orange City, Iowa, passed away Saturday, Sept. 7, 2019.
Funeral service was Saturday, Sept. 14, at American Reformed Church, Orange City. 
John was born Nov. 24, 1937, in Boyden, Iowa, to John and Magdalena Rensink in Boyden. He grew up in Boyden and graduated from Boyden High School, University of South Dakota and Drake Law School in Des Moines, Iowa. He served in the U.S. Army JAG Corps from 1965-1968. He began private law practice in Independence, Iowa. He spent the remainder of his over 50-year law career in Orange City.
Survivors include his wife of 59 years, Phyllis (Siderius); daughters, Susan (John) Osweiler of West Des Moines, Iowa, and Patricia (Mark) Vogel of Orange City; son Mike (Heather) Rensink of Atlanta, Georgia; five grandchildren; sister, Elaine (Dave) Kilian; a brother, Ron (Susan) Rensink; sisters-in-law; brothers-in-law; and many nieces and nephews.
He was preceded in death by his parents.