Henry Kiers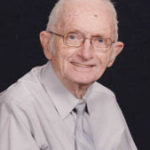 88
Hull, Iowa
December 12, 2019
Henry Kiers, 88, of Sheldon, Iowa, passed away Thursday, Dec. 12, 2019, at Pleasant Acres Care Center, Hull.
Funeral service was Monday, Dec. 23, at First Reformed Church, Sheldon, with interment in Hope Cemetery, Hull, Iowa.
Henry was born in Hull, the son of John and Fenni (Moes) Kiers. He grew up in Hull where he graduated from Hull Christian School and Western Christian High School. He was as a welder at Kooiker Manufacturing before he became a TV service technician at Sipma Electric in Rock Valley.
On Sept. 20, 1957, he married Lila Ann Klein. In September 1958, the couple started Radio & TV Center in Hull. In 1972, they also opened a Christian bookstore and electronics sales and service business in Sheldon. In 2008, they retired.
He served on the Hull City Council, participated in the Hull business and professional clubs, and was a member of the Western Christian High School Board.
Survivors include his wife; three children, Rick (Eleanor) Kiers of Hull, Martin Kiers of Hull and Lisa (Todd) Merley of Ashton, Iowa; six grandchildren and five great-grandchildren.
In addition to his parents, he was proceeded in death by a sister, Gertrude Zevenbergen; a brother-in-law, Clyde Klein, and a sister-in-law, Lois Klein.