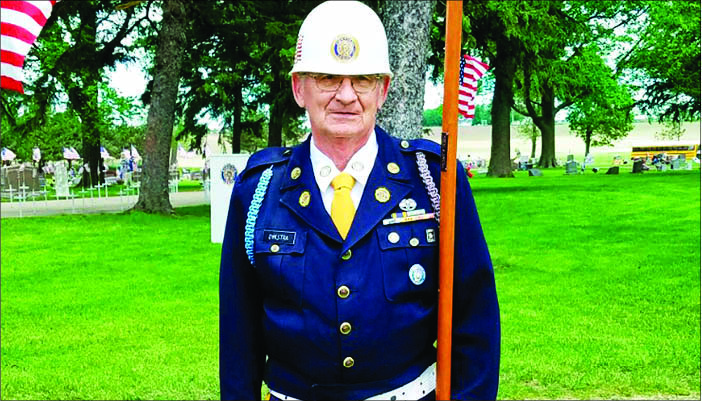 For more than 20 years, Bob Dykstra has worn the uniform of the American Legion Color Guard. A 45-year member of Hull's Wegman-Koele American Legion Post, Dykstra believes the color guard represents patriotism, honor, duty and respect.
"It's just one of the things that veterans can get involved in," explained the 74-year-old Hull resident. "We serve to honor our brothers and sisters in their final hour."
The purpose of the American Legion color guard is to conduct military funerals and present the colors at various public events such as parades, school activities, veteran functions and patriotic programs.
Dykstra led the prayer at Hull's Memorial Day service last month and was the speaker a few years ago.
As a Vietnam veteran, he is pleased this country treats veterans better today than it did 40 years ago. "It seems that more is being done for veterans now," he said.
Dykstra grew up on a farm near Stickney, South Dakota. After high school he attended Northwestern College in Orange City and graduated in 1965 with a degree in secondary education. He was drafted in 1967.
Following basic training at Fort Leonard Wood, Missouri, Dykstra was placed in the Army's military medic-training program. "The 10-week training was basically first aid and how to treat battle field injuries," he said.
In November 1967, he flew to Vietnam and joined the 1st Air Cavalry division in the Central Highlands. He was assigned to a platoon as a medic and moved in the field with them.
The medic's job was to treat and evacuate. There was a 98 percent survival rate for injured soldiers who were evacuated within the first hour. The medic decided when to call in a helicopter for evacuation.
Vietnam was the first time medics were armed and carried firearms into combat.
"I tried to carry a rifle at first but I had so many first aid supplies to bring along that I'd lay the rifle down somewhere and then lose it," Dykstra said with a smile. "After awhile I just stopped carrying one."
Four months after arriving in Vietnam, Dykstra was promoted to head company medic, which meant that four medics served under him and they were responsible for 50 to 60 men.
"One of my responsibilities was to decide when to call in a helicopter for medical evacuation," he said.
That responsibility led to one of Dykstra's worst experiences of the war.
"One night we were in the field and cameunder attack by the North Vietnamese. One of the men was hit pretty badly by a grenade," he explained. "I had to decide if he was dead or alive. If he was alive, a helicopter would be sent in to pick him up but that would also expose our position to the North Vietnamese fighters. If he was dead, his body could be picked up in the morning."
"I never knew it was so tough to tell if a person is dead or not. I kept imagining that I felt a pulse, even though I was sure he was dead. I didn't call in a helicopter but I sure didn't sleep much that night."
Dykstra's platoon stayed in the northern part of South Vietnam, three to five miles from the demilitarized zone. They moved from the beach through the rice paddy flatlands and up into the jungle and higher elevations.
He remembers a day sitting on the beach eating his C-ration, when there was a small burst in the sand next to him. He dug into the sand and pulled out a 55-caliber bullet.
"That must have been fired from a long ways away," he stated. "But it was a unique souvenir, so I brought it home. Later Tom Bonestroo gave me a casing to match the bullet."
Army medics, often nick-named "Doc," mostly treated arm and leg gunshot wounds and shrapnel from grenades.
In May 1968, Dykstra's platoon was pulled out of the field for a short time because their numbers were so low. "It was the worst of my 12 months in Vietnam," he recalled. "We ran into a lot of opposition and so many of our guys were killed or wounded. We didn't have enough to stay in the field."
During the Vietnam War, the 1st Cavalry Division moved from a conventional infantry unit to an air assault division with the use of helicopters on a large scale.
"We had lots of helicopters that could move us quickly to a new area for combat assaults," Dykstra explained. "Using seven or eight helicopters, we'd be the first on the ground in a new area. And we hit the ground running. We'd spread out to secure an area about the size of a city block while the rest of the company was brought in." He participated in 57 combat assaults.
"I was never injured and I praise the Lord for that," he stated.
After serving 12 months in Vietnam, Dykstra finished his time in the army at Ft. Sam Houston. In 1969 he began driving a truck for Scholten Trucking in Hull and a year later married Henrietta Zoet.