Jeanne Visser | Staff Writer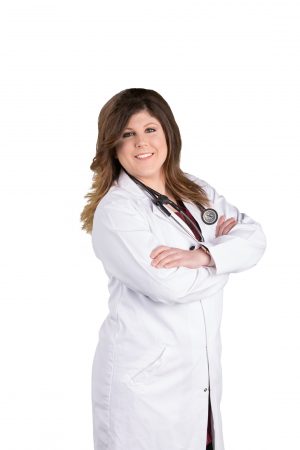 For 10 years, Amber Bynes has been chasing her dream of becoming a nurse practitioner.  Today the 30-year-old from Hull is one of the nurse practitioners that oversee the emergency room at Sanford Sheldon Medical Center.
She packed a lot into those 10 years — marriage, two children, full-time work and hours and hours of schooling. Last December, she received her Doctorate of Nursing Practice from Briar Cliff University. In 2018 she passed her boards and began working in the emergency room in Sheldon.
As a certified nurse practitioner, Bynes provides primary, acute and specialty healthcare services.
Reaching her career goal was only possible with lots of help.
"My husband, Chad, and my in-laws, Jim and Barb, really stepped in and helped me, especially with the kids. I learned to get by on not much sleep and lots of Diet Coke," Bynes laughed.
The daughter of Grant and Londa Boogerd, she graduated from Boyden-Hull High School. Her plan was to attend college and major in music. But in high school, she worked as a certified nursing assistant at Heritage House nursing home in Orange City and later decided the logical next step was to become a licensed practical nurse (LPN).
Her dream materialized on the first day of class.
"Our instructor was telling us about different roles of nursing and right then I knew I was going all the way to nurse practitioner," she exclaimed.
She finished her LPN, became a registered nurse in 2010 and enrolled at Briar Cliff to earn a bachelor's degree. Four years later, she finished her doctorate.
Students can enter the field with a master's or doctor's degree. Bynes chose the latter.  "I might be a little driven," she laughed.
Classes didn't claim all of her attention. The couple's son, Brennan, was born seven years ago and daughter, Olive, three years ago.  Bynes also worked full-time as a nurse in the Orange City hospital.
Even though Olive arrived on the day of a test, Bynes took it all in stride.
"It's kind of a funny story," she said.
She was working at the Orange City hospital when she went into labor, so she sought out her doctor who told her to go to obstetrics.
"But I have to go home. I have a final today," she retorted. "I got an eye roll from the doctor."
She drove back to Hull, took the online test, drove back to Orange City, and Olive was born two hours later.
The last year was maybe the toughest.
"I had to put in 1,000 clinical hours, which is like an unpaid internship," she explained. "Those hours were spent in Spencer, Orange City, Sioux Center, Sioux Falls and Sioux City. Plus, I wanted experience in another hospital before I graduated, so I also worked in Spencer.
"I worked weekends for a year while finishing my doctorate," she smiled. "I was determined."
But now she's reached her goal.
"I'm working three 12-hour shifts a week and it's great," she said. "I feel like I have lots more free time because there are four other days in the week when I'm not working."
Bynes especially loves the extra time she has to spend with her family.
And working in the emergency room is the perfect position for her.
"I love the ER. Each patient presents a new mystery or challenge that I get to solve," said Bynes.  "And every day I get to learn and study. Right now I'm learning about cardiology."
Sanford Sheldon Medical Center began employing nurse practitioners to oversee the emergency department a few years ago. Physicians remain on call at all times, but nurse practitioners are able to handle most calls.
"The ER stays pretty busy," reported Bynes. "I've learned that knowing your resources and knowing when to ask for help is more important than knowing everything.
"Getting here was a long journey but it was worth it."