Daniel Kaufman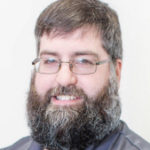 39
Hull, IA
October 18, 2019
Daniel Kaufman, 39, of Hull, passed away Friday, Oct. 18, 2019. 
Memorial services will be at a later date.
Daniel Stephen was born Oct. 15, 1980, in Mason City, Iowa, the son of Leslie and Ruth (Goertzen) Kaufman. He grew up in Northwood, Iowa, where he attended Northwood-Kensett Elementary before moving to Blooming Prairie, Minnesota, where he graduated from Blooming Prairie Secondary in 1999. After high school, he studied at the University of Northwestern in St. Paul, Minnesota, and served in the U.S. Army Reserves.
In June 2002, he married Rachel Busse. This marriage later ended. 
For the last few years, Dan has been involved in community gymnastics and, in 2018, helped create Rise Gymnastics in Sioux Center, where he served as head xcel and tumbling coach.
   Survivors include his three children, Trenton, Jozephine and Andrew, all of Hull; his brother, Mike Kaufman of Hampton, Virginia; his mother, Ruth Earl of Austin, Minnesota; and his father, Les Kaufman of Sioux City, Iowa.