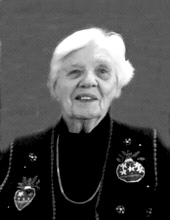 94
Sheldon, Iowa
January 12, 2020
Bernice Mouw, 94, of Sheldon, Iowa, passed away Sunday, Jan.12, 2020, at Sheldon Senior Care.
Funeral services will be at 2 p.m. Friday, Jan. 31, at First Reformed Church, Sheldon, with interment in East Lawn Cemetery, Sheldon. Visitation with family present will be at the church from 1 p.m. until service time Friday, Jan. 31.
Bernice Alleen Struyk was born July 1, 1925, in Sheldon, the daughter of Leonard and Lillian (Williams) Struyk. She attended Sheldon Schools, graduating from Sheldon High School in 1943. After graduation she attended Nettleton Business College in Sioux City, Iowa.
On Dec. 7, 1946, she married Thomas Mouw. They farmed one year near Boyden, Iowa, before moving to a farm north of Sheldon. Her husband passed away May 25, 2006. In 2016 she moved to Fieldcrest in Sheldon. She became a resident of Sheldon Senior Care in August 2019.
Survivors include her children, Thomas Jr. (Jill) Mouw of Sheldon and Mary (Dave) Brostrom of Spencer, Iowa; six grandchildren; 10 great-grandchildren; two great-great-grandchildren; a brother, Herb (Lorraine) Struyk, and a sister, Elaine Coles, all of Sheldon; also other relatives and friends.
She was preceded in death by her husband; an infant great-granddaughter and her parents.