Angeline Tiedemann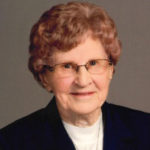 94
Sibley, Iowa
May 29, 2019
Angeline Tiedemann, 94 of Sibley, Iowa, died Wednesday, May 29, 2019, at Country View Manor in Sibley.
Memorial service was Sunday, June 2, at Trinity Lutheran Church, Sibley, with interment in St. Paul Lutheran Cemetery, rural Hull, Iowa.
Angeline Jans was born Nov. 20, 1924, near Boyden, Iowa, the daughter of Jake and Anna (Vander Vliet) Jans. She grew up near Boyden and attended country school.  
On Sept. 6, 1944, she married Edward Tiedemann. They farmed near Hull until 1954 when they moved to Bigelow, Minnesota. In 1968, they moved to a farm near Ashton, Iowa, and retired from farming in 1981, when they moved to Sibley. Her husband died Aug. 1, 1995. She became a resident at Viola Home July 1, 2018. On March 22, 2019, she became a resident at Country View Manor.
Survivors include three sons, Wayne (Dottie) Tiedemann of Hull, Merlyn (Julie) Tiedemann of Mason City, Iowa, and Melvin (Pam) Tiedemann of Ashton; nine grandchildren; 23 great-grandchildren; two great-great-grandchildren; a sister, Harriet Vander Zwaag of Sioux Center, Iowa; nieces, nephews and extended family.
She was preceded in death by her parents; her husband; six sisters, Henrietta Jans, Ida Vander Zwaag, Tillie Wolters, Grace Hibma, Carrie Mulder and Coba Kleene, and three brothers, Hank, Jake and Mert Jans.