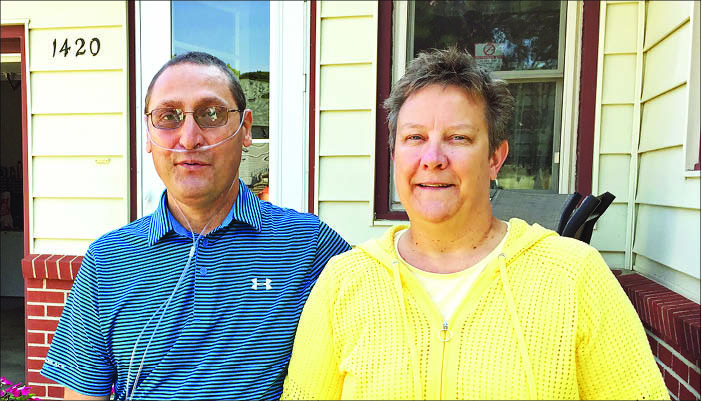 Good things come to those who wait.
Eldon and LuAnn DeWild have seen the benefits of waiting, even if their story involves some frustration and sadness.
Almost a year ago, Eldon found out he needed a lung transplant. Since then, the Hull couple has described their life as a roller coaster ride as they struggle through medical bureaucracy, health problems and having their hopes for a quick solution denied. But they also agree the blessings have far outweighed the challenges.
Eldon, 53, has been diagnosed with antisynthetase syndrome, a chronic autoimmune condition that affects muscles and other parts of the body; and pulmonary fibrosis, a lung disease that occurs when lung tissue becomes damaged and scarred. This thickened, stiff tissue makes it difficult for lungs to work properly. As the disease worsens, patients become progressively short of breath. It is very common in patients with antisynthetase syndrome.
The exact underlying cause of both is unknown.
Eldon's pulmonary fibrosis was identified 10 years ago. The antisynthetase was discovered last October. For the past two years, he's needed oxygen for breathing.
After the antisynthetase syndrome diagnosis, doctors at the V.A. hospital in Sioux Falls suggested he begin the process to get a lung transplant.
During 2017, Eldon was hospitalized three times with pneumonia; been tested by doctors in three hospitals — Sioux Falls, Minneapolis, Minnesota, and Madison, Wisconsin — and had to quit his job. He's no longer able to work.
But Eldon and LuAnn, married 26 years with two sons, Matt and Josh, still see positive sides these of events.
As a veteran, Eldon is eligible for V.A. healthcare.
"The V.A. hospitals and doctors have been super," declared LuAnn. "They've helped Eldon get a scooter, lift chair and wheelchair and the people who work in the hospitals are great people. They've had a positive impact on his health and his attitude."
Last February the DeWilds began working with the V.A. hospital in Madison, Wisconsin, hoping to be placed on atransplant list. At the end of March they traveled to Madison and Eldon underwent a week of testing and appointments. Then more tests were needed after they returned home.
Their hopes were high.
Weeks of waiting followed. Some tests were positive and suggested Eldon would be placed on the transplant list, but one showed his heart was not healthy.
Finally, on July 7, they received news that Eldon had been denied for a lung transplant from Madison.
"It was very disappointing news for us after the long wait but we weren't ready to give up," said LuAnn. "Our doctors in Sioux Falls right away sent Eldon's information to another transplant hospital in Seattle."
By the end of July, they had a teleconference with doctors in Seattle and two weeks ago received good news from the transplant coordinator. They'd been invited to meet with doctors in that hospital with the hope of Eldon receiving a lung transplant in Seattle.
Their appointment is Sept. 17 and, if all goes well, they will stay in that city and wait for an available lung.
The couple is filled with hope again, but this time they have a different perspective.
"When we thought we were going to Madison, I had everything planned," said LuAnn. "But my way wasn't God's way. I've learned to relax more and take things as they come and wait on God's will."
"Waiting was good for us," added Eldon. "It has helped us get a better idea of the brevity of life."
Because they were in Hull for the summer, Eldon was able to participate in the ceremony for his son, Josh, when he graduated from the South Dakota State Patrol.
The couple has purchased a cemetery plot, chosen a stone and made funeral preparations.
"These are things we could do together so I'm not leaving the burden to one person," said Eldon.
They've also been overjoyed by the support of family, neighbors and the community.
"Most of the year has been a huge blessing," said LuAnn. "We've learned patience and thankfulness. We've seen God answer so many prayers."
And there is hope for the future.
"I know that if I get a transplant, organ rejection is always an issue," explained Eldon. "But I am looking forward to feeling better and freedom from being hooked to an oxygen tank all the time.
"But what happens, happens. We've learned to take one day at a time and depend on God."
Eldon's story is chronicled on caringbridge.org.