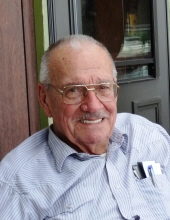 95
Sheldon, Iowa
May 19, 2020
Warren R. Vanden Brink, 95, of Sheldon, Iowa, passed away Tuesday, May 19, 2020, at Community Memorial Health Center in Hartley, Iowa.
There will be no formal services at this time.
Warren Vanden Brink was born Aug. 14, 1924, in Hull, Iowa, son of Art and Ella (Jantzen) Vanden Brink. He attended school in Boyden, Iowa, and graduated from Boyden High School. He then went on to attend Mankato Business College in Mankato, Minnesota. He served in the U.S. Army from March 18, 1943-Feb. 26, 1946.
On July 23, 1948, he married Shirley Merry in California. They resided in Sheldon where he ran Van's Highway Furniture Store as well as being a sewing machine repairman. They retired to East Lake Okoboji. In 2014, he moved back to Sheldon.
Survivors include his children, Ron (Teri) Vanden Brink of Molt, Montana, Larry (Shirley) Vanden Brink of Leavenworth, Kansas, Linda (Peter) Morton of Grand Junction, Colorado, and Dave (Lisa) Vanden Brink of Bend, Oregon; four grandchildren; six great-grandchildren and other relatives and friends.
He was preceded in death by his parents, wife and one great-granddaughter.