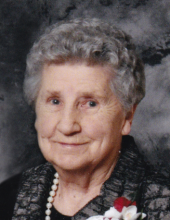 90
Orange City Iowa
June 14, 2021
Sadie Van Peursem, 90, of Orange City, Iowa, passed away Monday, June 14, 2021, at Prairie Ridge Care Center in Orange City.
Funeral service was Friday, June 18, at First Reformed Church, Maurice, Iowa, with interment in Sherman Township Cemetery, Maurice.
Sadie De Groot was born June 22, 1930, near Sioux Center, Iowa, to Johannes and Agnes (Katje) De Groot. She grew up on her family's farm and attended country school through ninth grade.
On Feb. 22, 1950, she married Marion Van Peursem. They farmed near Maurice and she also worked at Casey's Bakery in Sioux Center. In 2007, the couple retired and moved to Orange City. Her husband passed July 17, 2009. In 2012, she moved to the Landsmeer Ridge Retirement Community in Orange City and, in 2020, she became a resident of Prairie Ridge Care Center.
Survivors include three daughters, Barb (Jim) Bynes, of Hull, Iowa, and Kathy (Bill) Van Marel and Lori and Ray Van Gorp, all of Orange City; 10 grandchildren; 24 great-grandchildren; a sister-in-law, Leola De Jong of Orange City; two brothers-in-law, Dean (Gladys) Van Peursem of Snohomish, Washington, and Perry Jager of Maurice; as well as numerous nieces and nephews.
In addition to her parents and husband, she was preceded in death by a brother, Pete (Alice) De Groot; three sisters, Elsie (Alfred) Wissink, Janet (Gene) Wagner and Dorothy (Cornie) Vander Stelt; a brother-in-law, John De Jong, and two sisters-in-law, Carol (Peter) De Koter and LeAnn Jager.