Marylin Van Der Zwaag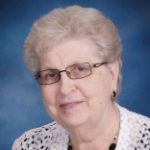 79
Hull, Iowa
May 25, 2019
Marylin Van Der Zwaag, 79, of Hull, Iowa, passed away Saturday, May 25, 2019, at Avera McKennan Hospital and University Health Center in Sioux Falls, South Dakota.
Funeral service was Saturday, June 1, at First Reformed Church, Hull, with interment in Hope Cemetery, Hull. 
Marylin Joann Vanden Brink was born August 15, 1939, near Sheldon, Iowa, the daughter of Wynard and Marie (Kleinwolterink) Vanden Brink. She was raised in Archer and Hospers, Iowa, where she attended Archer and Hospers public schools. After graduation, she worked as a telephone operator and repair clerk for Northwest Bell Telephone Co.
On April 5, 1961, she married Gerrit Van Der Zwaag at the First Presbyterian Church. They made their home in Hull where she was a bookkeeper and dispatcher, first for Gerrit's corn shelling business, and then additionally for Van Der Zwaag Trucking.
She was a member of the First Reformed Church, where she participated as an officer in church circles. She was also a member of Gideons Northwest Camp Auxiliary and Hope Haven Auxiliary, serving as an officer for both. She volunteered at Pleasant Acres Care Center in Hull.
Survivors include her husband; four children, June (Arlan) De Wit of Boyden, Iowa, Calvin Kathy Van Der Zwaag of Hull, Iva (Troy) Prinsen, of Castle Rock, Colorado, and Ila (Daryl) Kats of Rock Valley; 13 grandchildren; eight great-grandchildren; a sister, Eleanor Burkman of Sioux Falls, South Dakota; a brother, Galen (Mary) Vanden Brinkof Aurora, Colorado; a sister-in-law, Marjorie Vanden Brink of Pekin, Illinois, and Gerrtit's sister, Clara (Bernard) Schiebout of Orange City, Iowa.
In addition to her parents and Gerrit's parents, Clarence and Ida (Jans) Van Der Zwaag, she was preceded in death by two sisters and two brothers, Elma Mae Klutman, Rodney Vanden Brink, Phyllis Vanden Brink and Darrell Vanden Brink; and two brothers-in-law, Donald Burkman and Jake Van Der Zwaag.