Louise Schemmel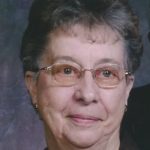 88
Dexter, Iowa
January 19, 2019
Louise Margaret Schemmel, 88, formerly of Dexter, Iowa, passed away Saturday, Jan. 19, 2019, at Ramsey Village in Des Moines, Iowa.
Funeral services were Wednesday, Jan. 23, at Zion Lutheran Church, Dexter, with interment in Dexter Cemetery.
Louise Sohl was born Oct. 5, 1930, in Doon, Iowa, to John and Else (Zorn) Sohl. She grew up in Doon and attended Doon High School.
On Jan. 11, 1950, she married Donald Schemmel at Hull, Iowa. The couple made their home in Colorado then returned to northwest Iowa to farm and lastly retired to Dexter. She worked at Good Samaritan Home in George, Iowa, before working at the high school in George as the food service director. She later worked as the food service director at Stuart and Waukee High schools.
Survivors include her husband, Donald; sons, Bill (Mary) Schemmel of Des Moines, Bob (Deb) Schemmel of Dexter and Roger (Linda) Schemmel of West Des Moines; six grandchildren; eight great-grandchildren and her sister-in-law, Betty Sohl.
She was preceded in death by her parents; her brothers, Arnold Sohl and Dwayne Sohl, and her sister-in-law, Wilma and husband, John Grier.