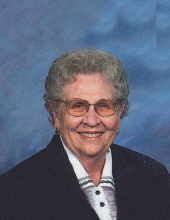 Leora Koele
96
Sanborn, Iowa
February 4, 2019
Leora Jean Koele, 96, of Sanborn, Iowa, died Monday, Feb. 4, 2019, at Prairie View Retirement Home, Sanborn.
Services were Wednesday, Feb. 13, at Vander Ploeg Funeral Home, Sheldon, Iowa, with interment in East Lawn Cemetery, Sheldon.
Leora Jean Erkes was born Aug. 20, 1922, in Sheldon, the daughter of Herman and Kathryn (Sinema) Erkes. She received her education in Sheldon and graduated from Sheldon High School.
On Oct. 24, 1941, she married Gerald Koele. The couple operated feed, produce and a hatchery business in both Hull and Sheldon. They later operated the Montgomery Ward Catalog Store in Sheldon. Her husband passed away Dec. 9, 1992. After her husband's passing, she remained in the family home until moving to Christian Retirement Home in Sheldon, later living at Fieldcrest for a couple years. Since March 2017, she had been a resident of the Prairie View Retirement Home.
Survivors include two sons, Dennis Koele of Apple Valley, Minnesota, and Douglas (Jane) Koele of West Des Moines, Iowa; two granddaughters; two great-grandchildren and other relatives and friends.
She was preceded in death by her husband, a grandson, her parents and a sister and her husband, Vera and Ralph Kamphoff.