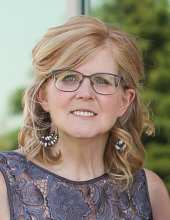 55
Hull, Iowa
November 3, 2020
Julie Ten Haken, 55, of Hull, Iowa, passed away Tuesday, Nov. 3, 2020, at Avera McKennan Hospital and University Health Center in Sioux Falls, South Dakota.
Funeral service was Friday, Nov. 6, at First Reformed Church, Hull, with interment in Hope Cemetery, Hull.
Julie May De Roon was born Sept. 15, 1965, in Sioux City, Iowa, daughter of Cornelius "Cornie" and Wanda (Schneider) De Roon. She grew up in Boyden, Iowa, where she attended public school and Boyden-Hull High School. Following graduation in 1984, she enrolled at Le Mars Beauty College.
On Feb. 22, 1986, she married David Ten Haken. The couple made their home in Hull where she was a homemaker and worked various jobs in the community. In 1994, they moved to a farm near Hull. She helped her husband with their businesses, Hilltop Hogs and Seamless Gutters, Inc.
Survivors include her husband; four children, Travis (Shaina) Ten Haken of Hull, April (Tom) Tom Ellens of Rock Valley, Iowa, Audra (Alex) Ten Napel of Sioux Center, Iowa, and Blake Ten Haken of Hull; five grandchildren; her mother of Boyden; a brother, Corwin De Roon of Boyden; Dave's mother and stepfather, Arnetta and Melvin Van Peursem of Hull, and Dave's siblings, Darwin (Michelle) Ten Haken of West De Moines, Iowa, Dayton "Jake" (Crystal Ten Haken of Hull and Dana (Dan) Fedders of Doon, Iowa.
She was preceded in death by her father and Dave's father, Alan Ten Haken.